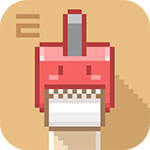 Ahoy there me lads and lasses! Me and the crew are in again for another swashbucklin' adventures around the seven seas. We will brave even the most dangerous locations just to get them booties! While these scallywags are prepping to start our sailing adventure, let me share with ye another app before we hop on the good ole Jolly Roger and go. The app that we have today is called Tape It Up! by Devsisters Corporation.
Cute Pixel Graphics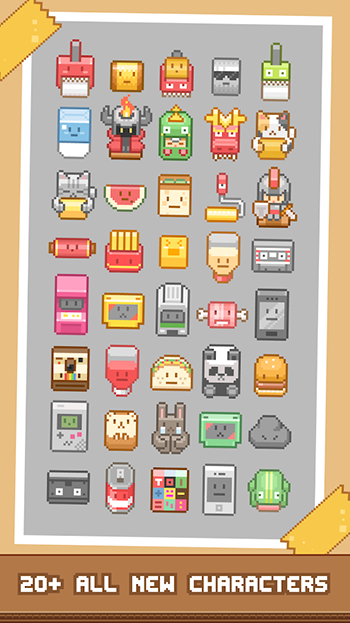 In the world where almost everything is in 3D when it comes to apps, Tape It Up! will bring yoy down memory lane because it used adorable pixel graphics. You will feel nostalgic because it will remind you of the classic video or arcade games that you used to play as kids. There are different backgrounds to choose from, which add variety. This is a good thing as you will not get bored with what you see. There are also several characters to use although they need to be unlocked.
Easy to Play Difficult to Master
Learning the basics of the game is simple. Swipe left and right to land on the boxes and tape them. However, the challenge is on avoiding the obstacles. Landing on them will end the game. This is an endless jumping game so you need to stay in the game as long as you can to achieve the highest possible score. The pace will get faster and the obstacles will increase as you progress making it more challenging.
It's a Fun Time Waster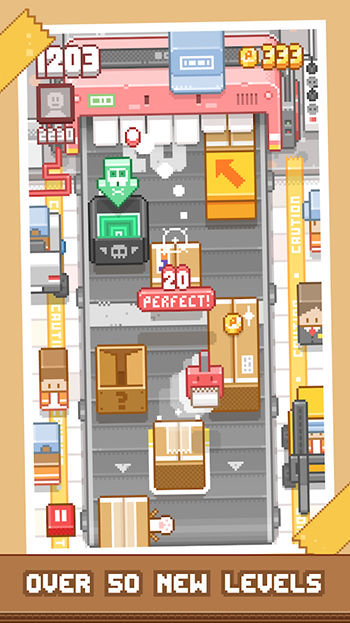 This free app is a casual time waster. It's enjoyable and it will keep you occupied. If you're the type of player that wants to pick up and put down a game anytime, this one is a good option. There is no need to wait to have more lives to continue playing, which is what other games usually do. You can also play it while offline, although you can connect with friends on Facebook for leaderboards and achievements.
Controls Need Improvement
The game requires swiping left and right. However, sometimes the move does not register so there's a chance that you might miss the right spot to land on. It would have been better if there are buttons that you can tap to make the character move left or right, as this would have made the moves more accurate.
The Ups
This is a free app that you can play even while offline. Although there are advertisements, they are placed in a non-obtrusive way so they will not affect the overall gameplay. It has nice pixel graphics that will take you down memory lane. It's also easy to learn and has the right amount of challenge.
The Downs
One minor drawback is the controls. Swiping left and right is not always accurate and there are times that the swipe does not register, so you may end up losing.
The Verdict
While the control needs a bit of an improvement, overall Tape It Up! is a good app to try. It's free, simple to play, but fun and challenging.