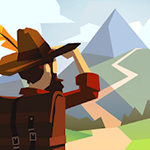 Ahoy there me hearties! It's me again yer favorite app pirate ready for another adventure with the entire crew and me parrot pet. This bucko loves exploring new places and things. We just found this small island that was full of interesting finds. Me and the buccaneers were delighted that we brought plenty of treasures in the good old Jolly Roger. 'Afore this old salt take a good night rest after a long day of booty hunting, let me give ye a review of an app called the Trail by Kongregate. Avast ye as we begin.
Pretty graphics and animation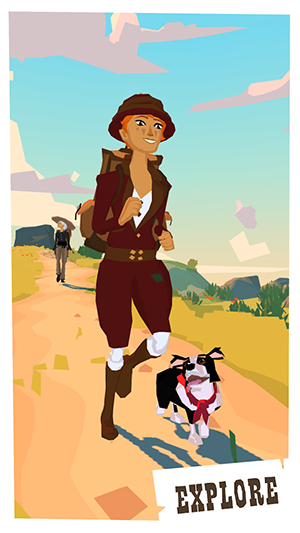 The graphics of the game is exceptional. It's not realistic but the scenery that you will see as you explore the world will make you feel relaxed. Since you will be crossing mountains to reach your destination, you will see trees, plants and rivers that may not be close to the real thing but are still eye-candies. Even the animation is smooth. The characters move fluidly like real people would.
It has a different take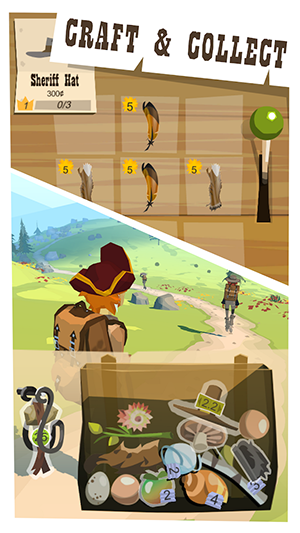 It's not the usual game that you will typically see, but it is still not difficult to understand and learn, especially there is a character in the game that serves as a guide, which will tell you what to do from the beginning. Instead of the usual tutorial, this one feels more interactive because the guide will meet your character and it will walk with you as you take your journey. It is like a mix of storyline and open world games. You are free to explore, although there are objectives that you need to complete. There is a story that develops as you go through the game, from the beginning to the latter part of the game where you have a family and build your own business.
It's free but in-app purchase can be tempting
The Trail is free to be downloaded and played. Like most free apps, it also has advertisements, although they are not that distractive so you can still focus on playing the game. There are also in-app purchases although you can continue playing it without purchasing anything with real money. However, this can be a challenge on the latter part of the game as more energy is uses and it takes time to do something because you run out of energy. Plus, many items are expensive so they take longer to collect.
The good
This app is free to play and it's fun because you will explore a gorgeous surrounding, while taking on various objectives that will keep you interested in the game. It offers something unique such as having a guide that interacts with you and completing objectives that people you meet along the way give.
The bad
The latter part of the game is challenging because the character quickly runs out of energy. Items are also more expensive. There is also no update on the story as of this moment.
The verdict
The Trail is a relaxing and unique game to play. Just set your expectations that there would be nothing else to do once you reach the maximum upgrades because there are no updates on the app yet as of this writing.