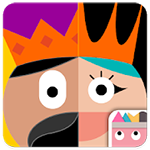 Yo, ho, ho, and a bottle of rum! Ahoy there me lads and lasses! Here's yer friendly app pirate excited to go on another booty hunting adventure with me parrot pet and the entire crew. It will be a long day ahead as we sail to our next destination. The expected time of arrival on our target location is tomorrow afternoon. Since me done cooking for the buckos, me thought of spending me time writing ye lads and lasses another app review. Batten down the hatches me hearties as we talk about the app called Thinkrolls: Kings & Queens by Avokiddo.
Colorful and gorgeous graphics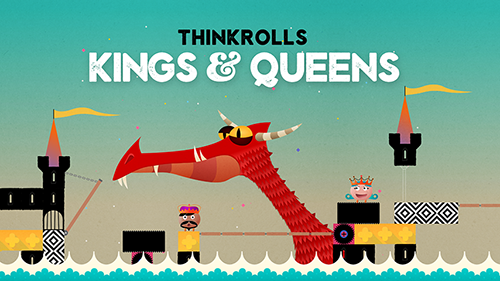 This app was designed for kids and the graphics are sure to get their attention. It's playful, colorful, and adorable. There are different characters to choose from and they can also be customized with various items such as sunglasses and mustache. You will navigate your way to make it out of the castle and each level has different colors and items. For instance, one level has more purple shades, while the other has more yellows in it. There are also various cute objects that you will find and collect such as ice creams and candies. Of course you will not miss the huge red dragon that guards the castle.
It's not just for kids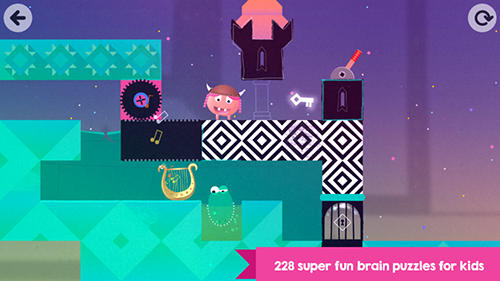 Thinkrolls is a puzzle game for children. However, it's not just them that they can enjoy, but all players who are into puzzles, regardless of their age. The levels will still make you think, although they may not be as tough as others considering that they are also meant to be played by youngsters. If you are looking for something that you and your kids can play, and at the same time enhance their mental skills, this is one title to consider.
No advertisements
This game is free to download. Most apps like this often have advertisements and some of them even have intrusive ads that affect the gameplay negatively. This will not be a problem with Thinkrolls because it doesn't have any ads. If your kids are playing the game, you don't have to worry about inappropriate ads popping, which is a problem with other apps.
Only limited castles are free
Although this game is free to download, there are only limited levels and castles available that you can play for free. As of this writing, there are 71 puzzles that are available for free. You can access them at the castles 1 and 2 of easy and hard levels. If you wish to play the other castles, then you need to make an in-app purchase. This is a one-time purchase only so you don't have to keep purchasing for various levels.
The ups
Thinkrolls is free to download and it doesn't have any advertisements. It has wonderful graphics and although it's designed to be played by kids, it can also suit adults who are into puzzle games.
The downs
Only limited levels are free. You must make an in-app purchase to unlock all other levels.
The verdict
Thinkrolls is a fantastic app to consider if you have kids who are into puzzle games or you are into this type of game yourself. It's free to download and it doesn't have any ads. You may need to make an in-app purchase if you wish to unlock the other levels.