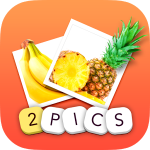 Yo, ho, ho and a bottle of rum! Ahoy there me hearties. Here's yer friendly app pirate back from another adventure straight from the seven seas. I brought with me another app that I bet ye lads and lasses would like. Ye know me hearties that this old salt loves all kinds of swashbucklin' and booty hunting adventures. That doesn't mean that this bucko is just all about that. I also love playing games that stimulate me brains and I just found one that does just that. 'Tis called Two Pics One Answer by Apprope. Avast ye and let me tell ye more about this puzzle game.
It's Simple But Challenging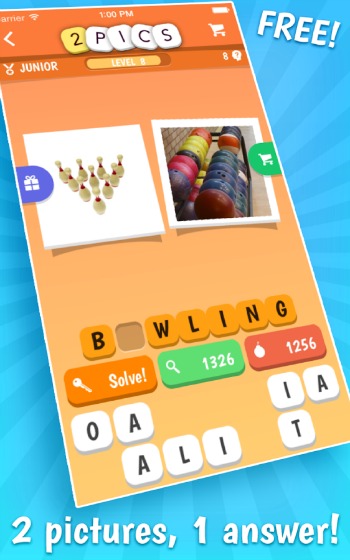 The basic gameplay of Two Pics One Answer is pretty simple. Every type of player wouldn't have a hard time understanding it as you would basically be shown two pictures that are related to each other and you have to guess the answer by tapping on the letters of the correct word. While some of the puzzles are easy to solve, the others could really bend your mind. The good thing is that there are helplines that you could use to help solve the puzzle like removing letters from the choices or revealing correct letters. Unlike most puzzle games under the same genre, it has a skip option, although it uses a key, which is the premium currency. However, it's still a nice feature as you wouldn't be stuck in a level if you really can't guess the puzzle and you no longer have coins for hints.
It's Familiar
If you're familiar with puzzle games like 4 Pics 1 Word, then you would know immediately the basics of this game. It's similar to that, but instead of having four pictures, you would only have two. This could be an advantage and also a disadvantage at times. Since there are only two images, it wouldn't be too confusing finding the relation between them. There are also times where more images would help as you may find clues on other images that could help you solve the puzzle. So generally, there are levels that you could solve without a sweat, while others would make you think harder.
It Has Hundreds of Puzzles to Complete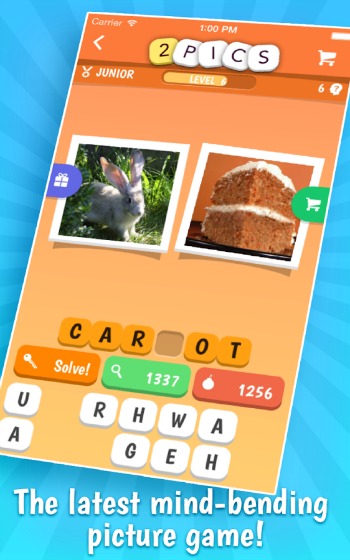 Two Pics One Answer has hundreds of levels available giving you more playtime. This is perfect, especially when you're on a long commute or you have nothing to do and you need something to occupy your time and mind. It's constantly being updated so if you're one of those puzzle geniuses that finish all levels fast, you could look forward to more puzzles to be added in the game.
The Good
It's free to download and there are hundreds of puzzles that would keep you occupied. There's also a skip option that uses premium currency, but still, it's a welcome addition that's usually not present on similar games.
The Bad
Advertisements pop-up when playing, which can be annoying. It's understandable that it has ads since it's free, but it would be nice if it's displayed at the bottom or somewhere that it wouldn't interfere with the gameplay, instead of popping up out of nowhere.
The Verdict
If you love puzzle games and you would like to add more in your list, you may want to try Two Pics One Answer. It's nothing new, but it's not bad at all.