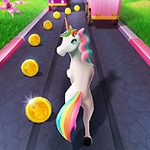 Yo, ho, ho, and a bottle of rum. Ahoy there me lads and lasses! It's me yer friendly app pirate ready to take another adventure around the seven seas. We just had a fun and exciting time during our quick stop on land yesterday. We were near a horse race track where we stopped over, so the buckos and I didn't miss the chance of riding horses. It wasn't me first time as me friends and I would go horse back riding back then. We had a friendly competition and guess who won. Of course, it was me! Har, har,har! The app that we will review for today has somewhat has to do with horses. It is called Unicorn Runner 2020 by SOCEM. Batten down the hatches and let's start.
Gorgeous graphics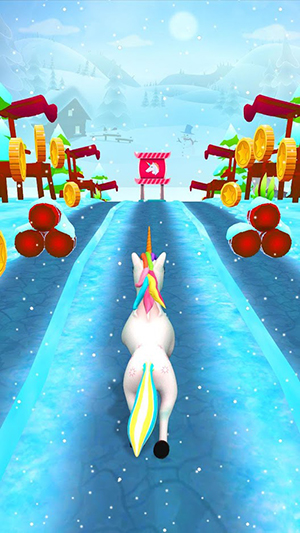 When you hear the word unicorn, one of the things that would come to mind is magical creature. As the name suggests, the main character of the game is the unicorn. It looks magical and it has pastel colors that are an eye candy. The background also changes. It starts with a snow covered area with some trees that would make you feel like it's Christmas. Once you reach a certain point, there is a bright light that you would pass through and like magic, you would be transported to a different place. Then the background will be different again with trains on the toad, then another background that is mostly pinkish. It's a positive point for the game because it makes it more enjoyable as you see different things. However after that, it would then go back to the snowy place. But at least it has a variety.
Unlockable characters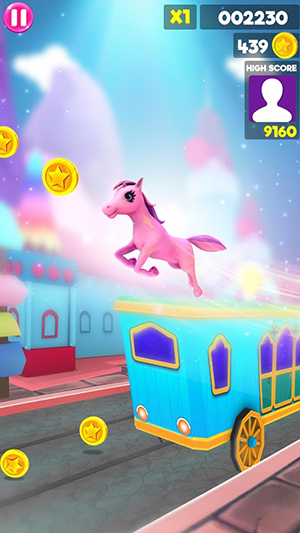 Another fun part on this game is that there are different unicorns to unlock. You start with a pink unicorn and as you progress in the game and reach higher points, you get to unlock the other characters and choose to use them before the start of every game. The unicorns are adorable, which is an added motivation to keep aiming to get farther in the game and reach higher points.
Same gameplay as other endless runners
This app has the same basic gameplay as other endless runners. Your goal is to reach as far as you can to get the highest score possible. There will be different obstacles to avoid and also coins to collect. There are also power-ups along the way that would help you go farther. One of the cute power ups is the wings that would allow the unicorn to fly. It's also a free game, although there are a lot of advertisements.
The good
Unicorn Runner 2020 is free to play and it has one of the most adorable graphics you will see. It changes in environment and there are also different types of unicorns to unlock.
The bad
The ads can be too much, although you can turn off WiFi to stop getting them.
The verdict
Unicorn Runner 2020 is one of the apps that you must download if you are into endless runner games. It has adorable graphics with unlockable new characters that you can select to use during the run. It's free to play and although it has several ads, there is a workaround to disable WiFi to stop the ads from popping.