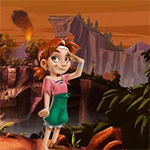 Ahoy there me hearties! Yer favorite app pirate is back from another booty hunting adventure with the crew. We found this island with a volcano. We were unable to find many booties because we used most of our time enjoying the warm water from the hot spring! Aye, it was a jackpot that we found an amazing view, lush surroundings, and clear hot spring that we got to enjoy. It was worth more than pearls and gold! Since me want ye lads and lasses to feel or at least have an idea of what we experienced in that amazing island, I will share with ye an app called Volcano Island: Tropic Paradise by PopReach Incorporated. Batten down the hatches and let's begin.
It has a story and dialogue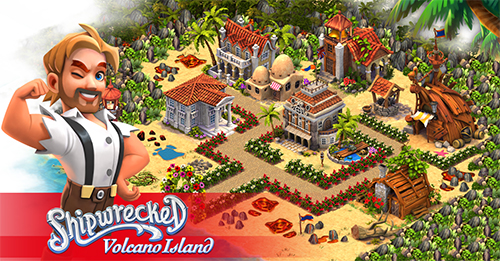 Unlike other games that just dive in to the main game, this one has a story. It gives you a background on how the characters ended up in the island, which give you a better feel of the game because you know its story. There are also dialogues between characters, so you are not just playing, but you are waiting for more of the story to unfold. Plus, you will not be bored with just tapping around because there is something to look forward to when it comes to the characters.
It lets you build your own paradise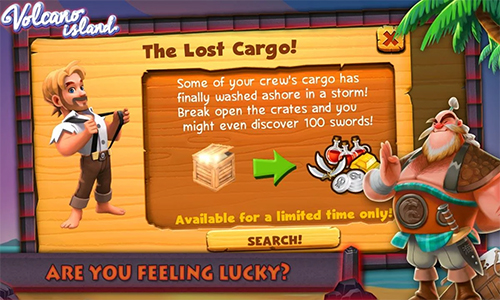 This app is an island building game. If you have played city building games before, the concept is similar, except that it is set in an island. The goal is to thrive in the island. There will be several things to unlock, and people to meet. Aside from being role playing and building game, it is also a multi-player game because it lets you play with other friends, which make it more fun.
Gorgeous graphics
The images in the game are an eye-candy. As you progress in the game, a simple volcano island, will turn into a paradise. It's up to you on how to decorate it. You can also plant trees, build structures, take care of animals, and more. While other similar games will not allow you to move things in another location, this game will let you do that, which is a plus point.
Free but with intrusive ads
Volcano Island: Tropic Paradise is free to download. You can play it without spending any money, although it comes with in-app purchases that requires real cash. The swords, which are the premium currency of the game, takes slow to accumulate. If you run out of it and you don't want to spend real money, you need to wait for a long time before you can collect them. There are also ads that pop-up often.
Thumbs up
The app is free and it has gorgeous graphics. It also has a story and dialogue that gives added fun to the game.
Thumbs down
It takes time to collect swords. Also, the advertisements are intrusive.
The verdict
Volcano Island: Tropic Paradise has some drawbacks, but overall, this app is a fun one to play. It has a story and it lets you build your own paradise in an island.