Ahoy there me hearties! Ye may not know it but this pirate almost got married to this lady who forced me to marry her. Luckily, this old salt escaped and this ship had been me home since then. Me crew became me family and 'acourse me parrot pet. This game called Wedding Escape by Firebird Games reminded me of that. It was scary as her father had a shotgun pointed on me but glad I escaped! It's now funny reminiscing about it. Har, har, har! 'Afore me self will go on telling ye about me so many misadventures, let me tell ye more about this app in this review.
Different Concept on the Classic Match 3 Game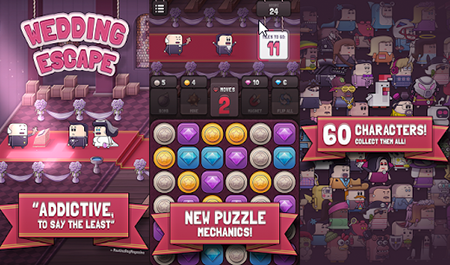 It's a match 3 game and you might think that it's another copy of the popular Candy Crush or Bejeweled games. We thought that too, but this one has a unique twist and it has something new to offer, which is refreshing and fun. Instead of swapping tiles, you'll tap on coins or diamonds to change the color and match it with the adjacent objects. What's also fun is the animation on top of the game window. Your character will be running away from various characters like the priest and the bride. You'll move to the next level if you completed the current level. However, if you failed to finish the level, you will not only go back to the start, but you will get married, which is pretty funny!
Adorable Graphics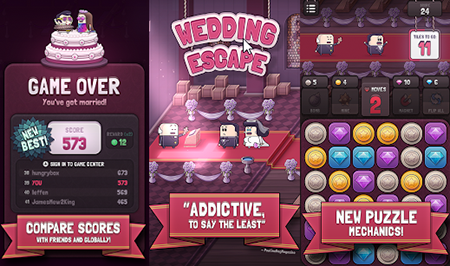 The graphics is cute. There are various adorable characters to unlock and choose from. There are also different backgrounds on each level, although you would only see a small part of it on the both sides, as you'll mostly see the characters running on the floor, street, or road.
Easy to Learn Difficult to Master
Although it's a bit different than the typical match 3 games, it's still easy to learn. However, since you only have limited moves and you'll need to match a specific number of objects, this get challenging. You'll need to strategize on what's the best next move to make in order to escape your wedding and move to the next level. Of course, expect advertisements as it's a free to play game.
The Good
It has a fresh approach on the classic match 3 game. It also has adorable graphics, which make the game more fun and enjoyable to play. It's easy to learn but it still will give you that challenge that will keep you want to do better and play more.
The Bad
You need to go back to the first level if you failed. It would have been better if there's an option to continue the game or play any of the levels that you already completed. The characters are cute but they just differ in looks. They do not have special powers or skills that separate them from each other.
The Verdict
Wedding Escape has some areas for improvement that will make the game more enjoyable but it's still is a fun and exciting game to try. It has a fresh take on the match 3 game typical gameplay and it will keep you occupied for hours.