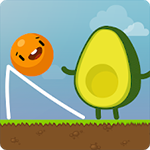 Yo, ho, ho, and a bottle of rum! Ahoy there me lads and lasses! Yer favorite app pirate is back on the seven seas ready for a new adventure with the crew and me parrot pet. We had a short break on land and now we're back sailing in the good old Jolly Roger. Our estimated time of arrival on the next island that we will explore is tomorrow so I still have ample of free time to do other things. Of course, one the things on me list is to write an app review for ye. Avast ye me buckos as I tell ye about this app called Where's My Avocado? Draw Lines by BitMango.
It's Free and It's Fun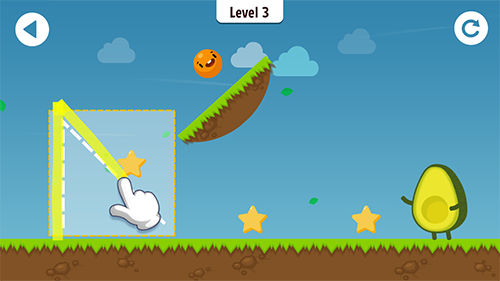 This app is free to download, which is an option for those who are looking for free to play game. It's also something that you will enjoy, especially if you are into puzzle game. The basic gameplay of this app is that you need to find a way on how to place the seed on the avocado. You can draw anything on the window to make it happen. Plus, there's no time or moves limit so you can keep on trying as much as you want or retry if you think you reached a dead end.
Charming Graphics
The graphics of the game is cute. It is simple yet clean. Aside from the usual brown avocado seeds, there are also other seeds that you can collect and use, which look adorable. The background usually has brown soil, green grass, and brown woods that you can use to reach your goal. There are added elements on other levels, and the time or weather also changes. It turns from morning, afternoon, to night. There are also levels where it is raining.
Easy to Understand But Challenging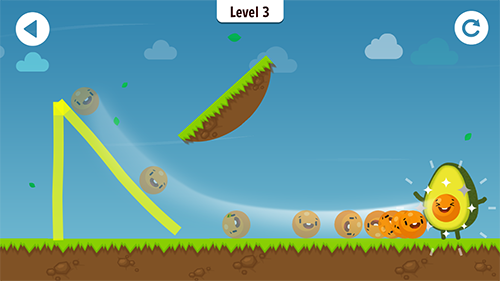 The game is easy to understand but it can also be challenging. You are free to draw anything that can move the elements and will help the seed to collect the stars and reach the avocado. There are levels that are harder especially those in the higher levels so you may need to think for more ways on how to complete them and move to the next.
Hundreds of Levels
There are hundreds of levels to play. This means that you can play for a long time, which is something that puzzle lovers will love. The levels also get more challenging, so there's a sense of excitement as you move forward.
Lots of Advertisements
While the app is free, it comes with advertisements, which is something that is often expected on free apps. However, there are times that the ads can affect the overall gameplay, which gives a negative impact on the game.
Thumbs Up
Where's My Avocado is free to download and play. It has adorable graphics and it comes with hundreds of levels. The game is easy to learn but it is challenging so it will get you thinking.
Thumbs Down
The advertisements can be annoying, especially when they affect the overall gameplay.
The Verdict
Where's My Avocado is highly recommended to puzzle players. It's adorable, fun, and challenging. The advertisements are expected since it's free so you may be able to live with them.