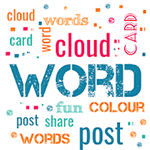 Ahoy there me mateys! Yer favorite pirate is back for another exciting app review. Ye see when I was a little lad, art projects have always been a challenge for me. I had no talent or skill in anything that had to do with arts. Me writing was also (and it's still) difficult to read! Har, har, har! This is the reason why this bucko is also into apps that allows me to design easily. If ye are like me, stick with me as I'm about to share with ye lads and lasses a review of this app called Word Cloud by Smart Puffin.
Doesn't Come with Instructions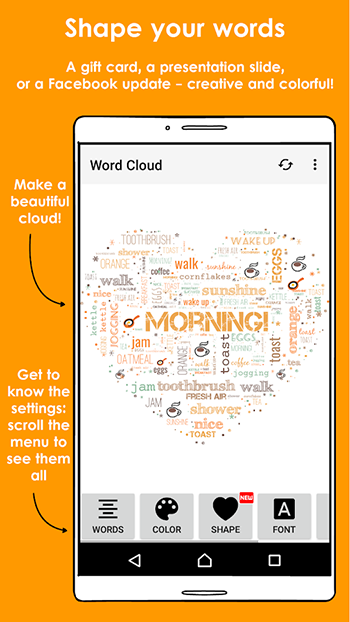 The app doesn't come with any guide or instructions on how to use it. However, it's also not rocket science so if you explore it on your own, it wouldn't really be too hard to learn. Upon opening the app, you will be taken to the main page where a word cloud is already displayed. At the bottom of the window are clearly labeled options that include words, colors, shapes, and font. They will immediately give you an idea on what they are for. Tapping them will give you the options under them. It's intuitive so you would know what to do right away.
It Works as Designed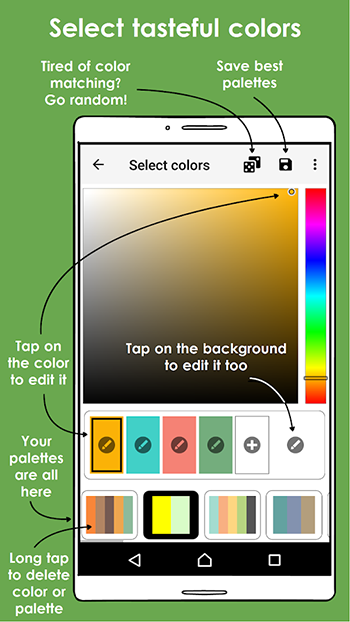 The app does the work that it is designed for, which is to allow you to make a custom word cloud. It is very simple to use and it's responsive. Changing the shape, colors, and fonts can be done in one tap. While it offers customization, this feature is only limited. For instance, it will not allow you to change the font or color of each text, but instead you get to choose the color theme for the entire word cloud.
Allows Export and Saving on Cloud
This is one of the best features of the app. Other apps make it difficult to save or share what you created if you don't have a paid account, but not this one. Not only does it let you export the image to your phone, but it also lets you save it on the cloud so you can go back to it anytime. There's also a share option that lets you send it to various apps, sites, and email including Facebook, Viber and Instagram.
Comes with In-App Purchase
Although this app can be downloaded and used for free, there are additional features that come with in-app purchases such as various shape packages and the ability to make the image larger. However, you will not feel like you are being pushed to make an in-app purchase as you can successfully create a word cloud using the free options available. There are also advertisements on top, although they are not really distractive.
The Ups
Word Cloud is free to download and it's easy to use. It's intuitive and it lets you create word cloud quickly and without any hassle. It also lets you save and share your creation.
The Downs
The options for customization are only limited, unless you make an in-app purchase.
The Verdict
Word Cloud lets you easily do what it is designed for, which is to create word clouds. The options may be limited but they are good enough to allow you to successfully make word clouds and even let you conveniently save or share them.