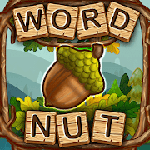 Ahoy there me mateys! Yer friendly app pirate is back from another successful and exciting booty hunting adventure with the crew. One of the things that we found from our hunt was this old puzzle magazine that was interesting, especially this bucko is into puzzles. Only few of the puzzles were left unanswered and I solved them. That was not enough for me so I decided to play a puzzle game on me device, which I will share with ye. The app is called Word Nut: Word Puzzle Games & Crosswords. Batten down the hatches me lads and lasses and let's begin.
Simple interface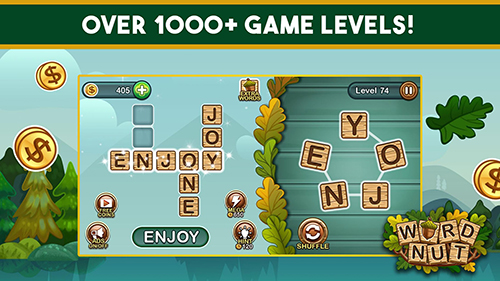 The game has a simple interface. Its background is the same color, which is somewhat bluish with a hint of green. There is fence with leaves, which color will remind you of autumn. Then there's a mountain, which shadow you can only make, as well as clouds and stars. Then the letters below are the ones that you connect and they are in boxes that look wooden. On the upper part are the blank boxes where the correct words that you guess show up.
A mix of crossword and word swipe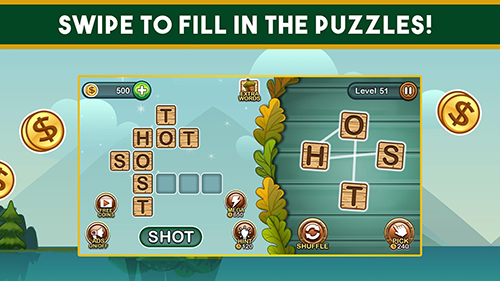 There are puzzle games that let you swipe letter to create words and there are those that let you tap on letter to reveal in the crossword puzzle. This is a mix of both games as you will swipe on the letters to create words that could possibly be in the crossword puzzle boxes. If you want to enjoy these two game types, then this app will let you do that.
Thousands of free levels
There are thousands of levels to play in the game and you will move forward to the next level after completing the previous one. You will have lots of playing time since it has several levels. It's also something that you can put down anytime and pick up from where you left of when you get the chance. However, there are times that the game freezes, which can do some fix so not to experience inconvenience or delay.
It will make your brain work
This free app has level with increasing difficulty. You will not have problems completing the first few levels since they are easy. It also comes with tutorial so you will know what to do. However, even without the tutorial you can determine how it's played since it's very straightforward. The higher levels are challenging so you may send more time and even hints to pass them.
The good
Word Nut is free for download and you can continue playing the levels without spending real money. It has a tutorial and it is also easy to learn. There are thousands of levels to unlock.
The bad
There are times that the game freezes that can cause frustration in playing.
The verdict
Aside from the technical hiccup that you may experience every now and then, it is generally a nice game to play, especially if you are into puzzle and word games. It's free, has a lot of content and it will keep you occupied while exercising your brain.