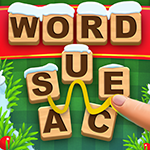 Yo, ho, ho, and a bottle of rum. It's me again, yer favorite app pirate back from another adventure from the seven seas. Me and me parrot fruit had a free time today. So we played all day, making it very happy. Now that he's sleeping, it's time for me to write a review that me know ye lads and lasses are waiting for. Avast ye as this old salt will give ye the review for this app called Word Sauce by Clever Apps.
It's Intuitive
The gameplay of this app is simple. Kids and adults alike will find it easy to learn how it is played. It is similar to other word puzzle game under the same genre, which lets you create words from the letters given by connecting them. You will move to the next level once you find all the words. Although this can be played by kids, those who know how to already form or spell words will enjoy it more.
It Will Make You Think
It's a fun time waster and at the same time, it lets you exercise your brain. If you are into games that will make you think, this is something that you will enjoy. There are levels that you will be able to complete easily, and there are also those that are difficult to finish.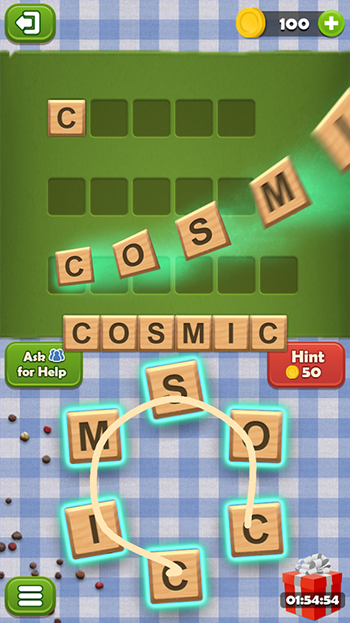 It Gets Challenging
The first few levels are easy to complete. So you can move on without a sweat. However, when you get to the higher levels, that's where the real challenge begins. There are levels that would really make you think to the point that they can be frustrating, especially when you don't have enough gold for hints.
Golds Can Be Earned Faster
Other similar games let you earn golds by completing levels, although only a few ones, so you need to complete several levels in order to have enough to be used for hints. There are also those that let you watch advertisements for golds. This app offers both that and more. With this app, you can earn golds every 3 hours, which is really good as you would need them for the hints.
The Good
It's easy to learn and it's free to play. There are free golds every 3 hours so it is quicker to earn golds that you will need for the hints. The first levels are easy so it will be quicker to familiarize yourself with the general gameplay and at the same time act as a warm up. The higher levels are challenging making it enjoyable and interesting.
The Bad
There are advertisements, although some video advertisements will earn you gold when you watch them. There are levels that are too difficult to answer, which can be frustrating especially when you don't have enough golds for hints as you will be stuck on that level.
The Verdict
The game may have advertisements, but this is not a deal breaker as some ads will earn you gold for hints. Word Sauce is easy to learn, fun, challenging, and it will exercise your brain. It is recommended that you download and try this game.