Yo, ho, ho and a bottle of rum. Avast ye me hearties! Yer favorite app pirate has a confession to make. Ye see, while a lot of landlubbers and these sallywags think that I don't use me brain for anything but booty hunting, they are wrong! Blimey! I also use it for answering trivia games! Har, har, har! I'm so good at these games that even if this old pirate is three sheets to the wind, I wouldn't have problems answering them and me parrot pet can attest to that. Weigh anchor and hoist the mizzen as we start with the review of this trivia game app called 90's Quiz Game.
It's Nostalgic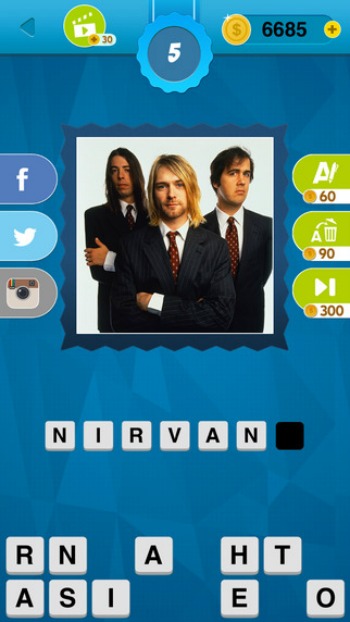 Those who were in their teens or early adulthood during the 90's would find 90's Quiz Game nostalgic because it asks random things that has to do with the 90's. The basic gameplay is no rocket science and there are no complicated settings or instructions to think of. After installing and downloading this free game, you could start testing your 90's knowledge immediately.
Average Graphics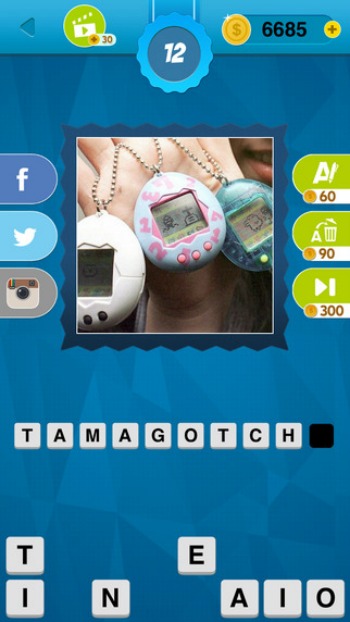 The graphics of the game is not too bad, but it's not that amazing either. The play button is in the home screen and upon tapping on that, you would be taken to the first trivia. It would remind you of the popular game 4 Pic 1 Word. However, instead of having four pictures, there would only be one picture that you need to determine the name by tapping on the correct letters at the bottom. You would also earn coins as you answer correctly and there are hints that can be used with coins in case you're having difficulties getting the answer. The problem is when you run out of coins, you would be stuck in one level and there's no skip option to move to the other levels.
No Free Coins Daily
You could get free coins by liking the game in social media like Twitter, Facebook and Instagram and that's the only way to get it. Other games let you get free coins by answering a simple trivia or puzzle, or simply by collecting their free daily coins. It would have been better if they also offer this, especially the hints cost a lot of coins and the coins that you gained could be easily gone. As mentioned, you could get stuck in one level if you don't know the answer, which could be frustrating. Your other option is to purchase more coins through in-app purchase, which is something that not everyone may want.
The Good
It's a nostalgic, challenging and interesting game for those who were already there and remember their 90's days. It's straightforward so the basic gameplay is easy to learn. It's also free to download.
The Bad
There are no free coins daily and hints are expensive. It's difficult to earn coins, unless you make an in-app purchase. You could easily get stuck in one level unless you're really knowledgeable about the 90's.
The Verdict
90's Quiz Game is not for everyone. As the title suggests, it's recommended for people who already have a memory of the 90's period as everything would be about it. If you want to test your knowledge about this period, it's recommended that you give it a try.