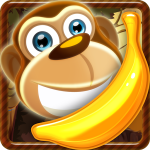 Ahoy there me hearties! It's me again, yer friendly app pirate, back from another booty hunting adventure from the seven seas and beyond. Ye might think that all this bucko know is find treasures, fight the other pirates and drink rum, aye? Well, yer right me buccaneers, I really love those things! Har, har, har! However, there's something that not lot of lads know about me and that's how this old salt likes physics games. Aye, there's a little nerd inside this pirate. Speaking of physics games, this app find that I will share with ye today falls under that genre and it's called Banny Sammy by Senspark Co., Ltd. Avast ye and let me tell ye more about it in this review.
It Would Test Your Brains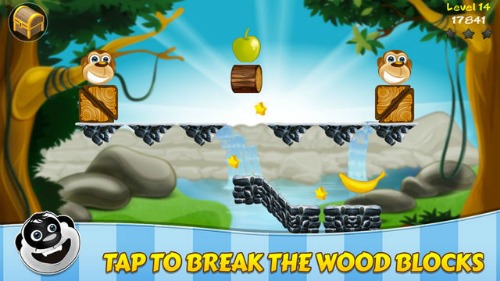 If you love games that test or exercise your brains, Banny Sammy is a great app to try. It has a simple story line. You would help the bears and monkeys collect their favorite foods by using your knowledge and skills in physics. Work on the different things that you would in the puzzles to make this happen. The gameplay is pretty basic as you would just need to tap on the items to reach your goal. However, it's also challenging as the puzzles become more difficult as you progress in the game. There's also a star rating on every level. You could get up to three stars if you did well in the level. You would feel challenged to collect all three stars in each level so you may find yourself going back to those levels where you didn't get them all.
Fantastic Graphics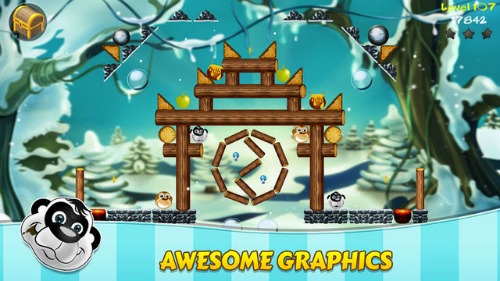 The developers did great when it comes to the graphics of the game. The color is vibrant and the images are pleasing to the eyes. The background also changes to day and night, as well as the four seasons, which correspond to the world. Although there would just be the same goal, which is to collect the foods, the changing background is a nicely added feature.
Hundreds of Levels
There are 144 levels of puzzles in four different worlds to complete in this app. That's hours of fun and challenging game that would keep you occupied and entertained. If physics and puzzle games are your interest, you would find this app difficult to put down.
It's Competitive
This will unleash your competitive side as you would want to get a higher score and be on a higher level that your friends. Although it's competitive, you could still help each other by sending lives and gifts.
The Pros
There are hundreds of levels set in four different worlds, which make it fun, interesting and challenging. Its graphics is a winner because it's gorgeous and vibrant. It's also competitive and at the same time allow friends to help each other.
The Cons
It's basically the same as other typical physics games. There are no twists or added features that could shake things a little bit, except for the images and backgrounds.
The Verdict
If you're looking for a physics games with a twist, this may not be the game for you as it's basically the same as other physics puzzle games. However, if you really enjoy this type of app, then you may want to give it a try. It's free and the graphics are interesting.