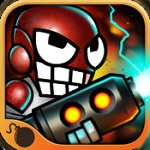 Ahoy me scallywag friends. The app pirate is back with the vengeance after a short vacation with me family. Aye, me wife and I sailed to Calypso's point, an island far off course from any merchant shipping lane. The island is serene and peaceful, with a cave stocked with a case of rum and a fully furnished cottage. Now, let me tell ye about this new app me first mate and I are playin' these days, and maybe ye buckos would enjoy it as much as we do. The game is called Blastron.
Blast, Blast, Blast!
Blastron is a free app from Kabam, which can be downloaded from the Apple App Store. Customize your own robot and equip it with the best gears and weapons to become the most powerful player. Be on top of the leaderboard by taking down all the enemies. Control your robot using the virtual joy stick on the left and right side of the game window. Make it move and jump with the left button and adjust the trajectory with the right one. Kill the enemies before they kill you.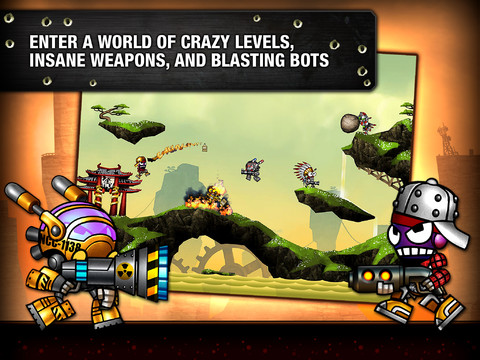 Weapons, customizations and upgrades will be unlocked as you progress in the game. You can change weapons anytime by tapping on the weapon option. But this will open your weapon inventory and you have to select on the weapon of your choice. This could be a bit inconvenient because you will not be able to see what's happening on the screen as the inventory will cover it. You might die if an enemy attacks you.
It's Challenging and Fun
If you're a beginner, it's best to play the practice mode first. It will walk you through the basics of the game. This is the perfect mode to prepare yourself before the real battle. Once you're comfortable controlling your robot and you think that it's time to show your skills, you can choose between the campaign and multiplayer mode. Complete various levels and boss fights to reach the end of the campaign mode. These are challenging levels that get harder as you progress. Collect loots and use the currency that you earn for your upgrades and customization.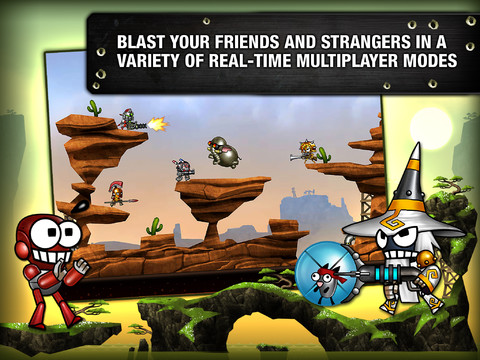 However, some of the great items cost high so you may be tempted to make an in app purchase. There is also the multiplayer mode that lets you play against other fanatics. It's you against everyone in this mode. Be the last one standing to be on top of the leaderboard. This is a fast paced game so you need to be alert and you need to act fast in order to survive. The graphics of the game is fantastic. It is crisp and impressive. Even if it's full of action and explosions, it still has a fun side with its cute characters. The background music is like those that you would hear on suspense movies, which adds excitement to the game.
The Verdict
This is an amazing game to add on your device. You will find it hard to put down because of the challenges that it brings. However, you may end up spending real cash if you can't wait to customize your robot and buy more powerful weapons. It would also be better if the weapons are easily accessible when changing them during the game. When accounting the game's target audience and genre, one might say it's almost perfect!