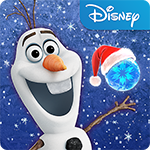 Shiver me timbers! Yer favorite app reviewing pirate is back. And me and the crew of the good ole Jolly Rogers have got the perfect mobile game to keep you at your wits ends and very much excited to open and play. It's a match three puzzle game called Frozen Free Fall. Let me tell ye lads and lasses about in this review. Avaste ye as we begin.
Frozen Characters and Kingdom in the Game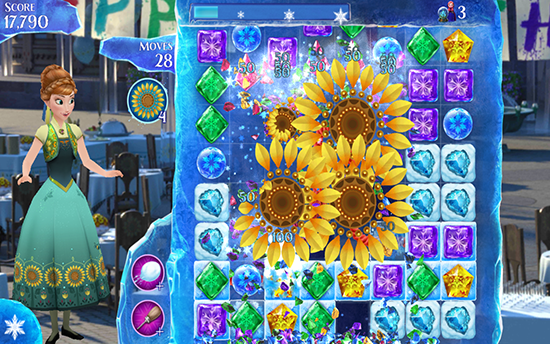 This app is from Disney and its theme is inspired by their movie Frozen. The theme may be more for kids, although you would still appreciate its vibrant color, which is mostly blue, because the game board is surrounded by ice. The special effects and sound when you get to match three or more of the same color ice crystals are good, but overall it has a feel that would be liked more by kids, especially those who have watched the animated movie.
Easy to Learn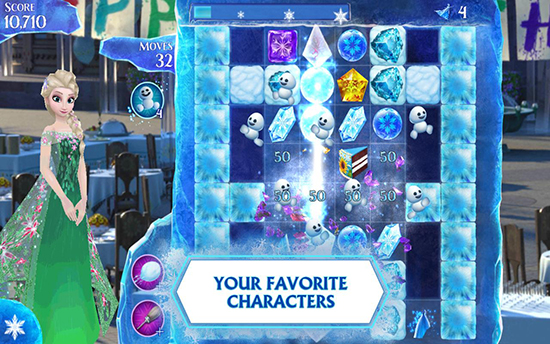 There are several match three puzzle games out there like Candy Crush and Bejeweled. The basic gameplay is similar. Match at least three of the same colored gems, candies or in this case, ice crystals, to remove them from the board, earn points, clear the level and move to the next. This makes it familiar to those who love this type of game. Even if this is your first time playing such game, it's very simple so you wouldn't have difficulties learning how to play it. Although it has similarities with other games of the same genre, there are also some twists in this app like the special powers that each character has. For instance, Elsa's power can make same colored ice crystals disappear, while Anna's power can remove an entire row of them. It's also nice how you can see the characters grow as you progress in the game.
Hundreds of Levels to Unlock
There are over 650 levels of puzzles to complete, which would guarantee you a long time of exciting play. The game is also continuously being updated so expect to get more levels added in the future, which means more time of fun.
The Good
This app is free so you're not risking even a single dollar downloading it. The graphics and design are nice. Those who love the movie Frozen would love it. It's also nice how it was still able to give a small twist like the special powers that the characters have and seeing them grow from kids to adult. This gives a new flavor to a popular game genre.
The Bad
Although it has some few twists, its gameplay is still not original. The puzzle game genre already has several match three apps available. It's not completely new, although the change in the theme and some tweaks are still nice addition for those who love this type of game.
The Verdict
Frozen Free Fall has a gameplay that's similar to other match three puzzle games. However, if you love this genre but are looking for an alternative with a new theme and some twists just to give that sense of freshness again, then you must download this app.