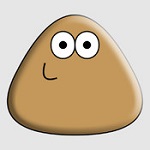 Awww! I love pets. This is the reason why I love Pou so much. So, if ye ask me about it, I be telling you that the app is good because any app that has a cute pet in it will always be good. And I declared that in the name of good, ol' Calypso. Get to know more about this application with this Pou review.
The Basics of the App
Virtual pets are popular nowadays and even in the past years. If you love these types of applications, then Pou is a must try app. Get the chance to take care of a cute little brown creature named (yes, you got it right) Pou. It has different metrics like hunger, energy and cleanliness that determines what your pet needs. You need to feed, play and clean your pet so you can level up, as well as earn coins that you can use to buy things it needs.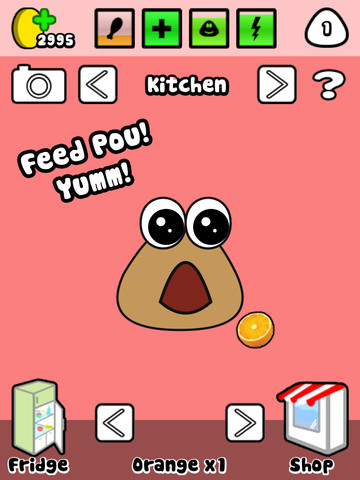 You will be given 5000 coins when you start, which you can use to customize your pet. This is the fun part of the game and what will keep you playing it continuously. You can change the color of your pet, purchase clothes, wigs, sunglasses, wallpapers and other items that will make Pou even more adorable.
Graphics and Sound
The graphics is simple and cartoon like. It may not be as extravagant as the other apps that you may have seen. However, its simplicity is just perfect for the game. The basic user interface and the colors used are plain yet they look good altogether. The sounds also play well with every action that you do on the app.
Minigames
There are games that you can play on the playroom, which will not only give enjoyment but will earn you some coins as well. Your friends who have this app can visit your pet so they can see how cute it looks. You can also visit their pets and see which looks better. The app comes with achievements that will award you with special items. Another great feature is that you can talk to your pet and it will talk back.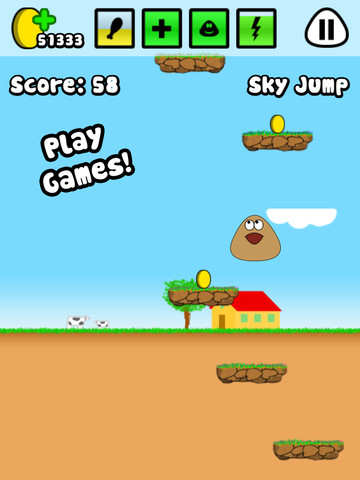 It is easy to play as you just need to tap on the options and drag items to the pet. It grows like a real pet so feeding it a lot can make it fat. In app purchase is also available in case you wish to get items faster. Meh, all this talkin' bout Pou makes me want to scrub me Jolly Roger's poop deck real good. Ahoy lads, starboard! We're off to the poop deck, i want it squeaky clean, d'ya understand?
The Verdict
This is a good app for those who are into virtual pets. This may appeal more to younger audience, though some adults may still have fun playing it. But generally, it will be enjoyed more by kids to teens. It requires checking of the pet regularly because as mentioned, it needs to be fed and cared for. Failing to do so will prevent you from leveling up; thus making it longer to have better customizations, as well as unlock more items. So this may not be an ideal app for those who do not enjoy or do not have time to check on the virtual pet. Otherwise? a true gem, Aye.