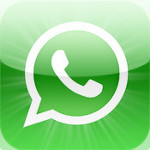 Ahoy there lads and lassies! I just got back from my latest swashbucklin' adventure, and boy do I miss my friends and family on land. I sure can't wait to see them when the anchor drops! For now though, I catch up with my family and friends using my app discovery -WhatsApp.
What is WhatsApp?
It's a social networking app that allows you to message your contacts absolutely free, instead of using your text messaging service. You can also send photos of your latest adventures from the sea, as well as audio notes, and video messages of yourself showing how great you were at tackling that sea monster. Did I forget to mention that all these features are absolutely free? What's great about this app is that it can be used by Blackberry, iOS, Android, and Nokia users, which means that you can connect with most of your family, friends, and all your fellow buccaneers!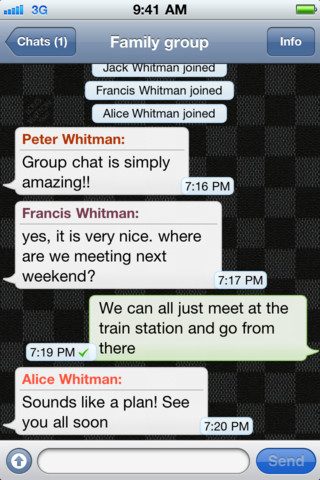 What's Good About It?
It allows you to send messages to all your fellow buccaneers for free, once you've purchased the app of course!  It's a cross platform application, so you're not just limited to connecting with your friends who are using Blackberry. Or your friends who are just using the iPhone. Or an Andriod. Or a Nokia phone.  You can connect with all of them! It's like having a Blackberry Messenger subscription or having iMessage, except you can connect with all of your friends.
Speaking of connecting with all of your friends, WhatsApp allows group chat. So in one chat thread, you can be talking to your fellow buccaneers to plan the next swashbluckin' adventure.  In another thread, you can be in a chat thread with your entire family to tell them about the sea monsters you've killed today.
Because pirates like me can be very busy collecting booty, staying connected and updating everyone on what's up with me can be quite a challenge.  WhatsApp makes it so much easier by allowing you to show your status message to your contacts so I can tell all my contacts when I'm busy wrestling with a sea monster, or when I shouldn't be disturbed because I'm on a date with a lassie I just met.
Overall the app is very user-friendly. So whether you're trying to connect with not-so-tech-savvy parents or friends that are totally connected, this app will definitely appeal to everyone.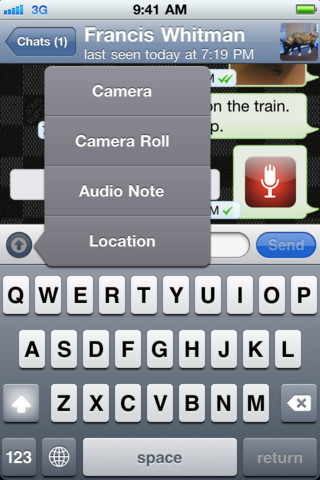 What's Bad About It?
For starters, the app is not free. You pay $0.99 for the app, but once you've made the purchase, all features are free, and no in-app purchases will ever be required from you.  Another is the app is mainly for chat messaging, as opposed to apps like Face Time or Nimbuzz that allow you to do video chats. Video messaging is allowed, but it does not give you the same service that Face Time or Nimbuzz can wherein you can have a face to face conversation with your friends. To add, apps like Nimbuzz offer more services than this app can, and is absolutely free, zero purchases required. In future updates, hopefully, WhatsApp will decide to come up with a version that can clearly compete with apps like Nimbuzz, Viber, and Voxer. Especially since, unlike this app, all of them are free.
What's Next?
Despite limitations, this app is a good app to try, especially if you're the kind who relies heavily on text messaging.  This app will save you a lot of money from sending too many SMS and MMS messages, especially since this app does not only work for text messages, you can also send audio notes and video messages. The group chat is also a very handy feature, especially if you'd like to update many friends all in one go.