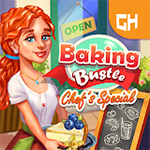 Ahoy there me lads and lasses! It was a fun day! We did not go on a treasure hunt, but we still enjoyed it because we spent time with some of our landlubber friends. We heard that they were participating in a market bazaar, and they were selling baked goodies. Since we were sailing near their place, we decided to stop by, and help them with baking and selling. Aye, ye know we buckos are great when it comes to baking, cooking, and even marketing. We're good both in real life and in games, like the game that we will review now. Listen up and let me tell ye about the app called Baking Bustle: Cooking Game by GameHouse Original Stories.
It has a story and it has nice graphics
The game has a story, so you will have a background of how the characters ended up working in the restaurant. However, unlike other games of the same developer that also have stories, this one is not as extensive and exciting because it only shows that the chef is working there and he happened to meet the assistant on the day that she was having her interview, which she also passed. The graphics are also not terrible. It can compete with other similar games, graphics-wise, but again, if it's compared to the graphics of the games from the same developer, their other games are a lot better. If you are a fan of these games, you will see the huge difference.
It's free but it's a short game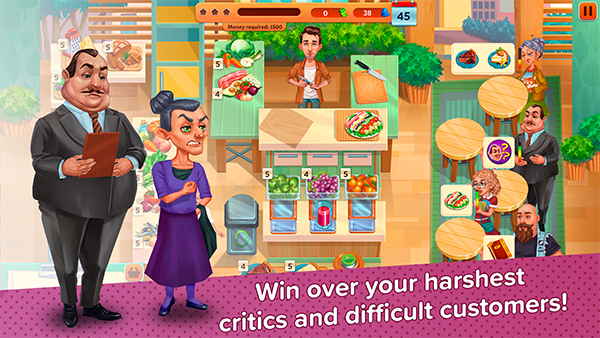 The game has in-app purchases, but you are not forced to get them. You can download and play the game without spending anything. However, there are only a few restaurants to unlock with some levels in them. If you play a lot, you will be able to finish it in no time.
The controls are not smooth
There can be an issue with the controls as they do not always work smoothly. You sometimes have to click a few times before you get the orders and with how the customers are placed, you could click on the wrong one and service the incorrect foods, especially if your screen is small. What makes it different from other similar cooking or baking games is that you need to remember the steps on how to prepare your menu. Similar games often only require tapping on the food and it will be prepared instantly.
It's good for passing time
Although it only has limited content, it's still a good game to pass time. The difficulty varies, so there are levels that are more challenging, which will let you bring your A game, although they are not frustratingly hard.
Thumbs up
It's free and it has good graphics. It's a fun game for passing time, and it's challenging but not frustrating.
Thumbs down
The controls are not smooth and there are only a few restaurants to unlock.
The verdict
If you love restaurant management games, you may want to try Baking Bustle: Cooking Game. It's free to play and download, and it's also fun. The graphics are nice and there's enough challenge to keep you interested.