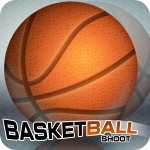 Ahoy there mateys! It's me, your one and only app pirate, bringing you my latest app addiction. You know mateys, when I was a lad; my greatest frustration was playing basketball. My neighbors played basketball a lot and joined neighborhood tournaments, but not me. I was never good at the sport, and envied the tall kids in my neighborhood who could really shoot some hoops.
Now that I'm a grown man, and an app pirate at that, I say good bye to all my frustrations and say hello to my latest app addiction -Basketball Shoot! The app that brings playing basketball into your pockets for a few minutes or several hours of addicting game play.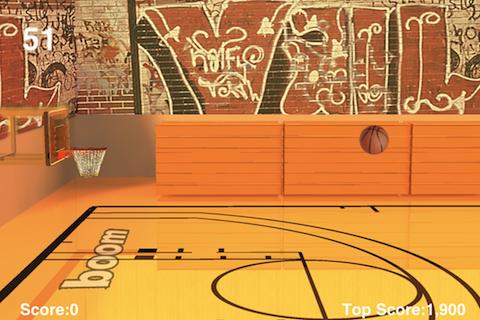 Shoot that Ball!
So what exactly is so addicting about this game? The game is actually quite simple. All you need to do is shoot the ball through the hoop to move on to the next level.  You can even make combos depending on how many balls you can shoot at a single time.
The game requires you to consider a bit of physics. Shiver me timbers! Physics? Now before you get your boots all tangled up, and before you draw your sword on me, the game only calls for practical physics -physics that will help you survive the game. This means you will have to consider which angles are best so you can properly shoot that ball. There are trajectory lines to guide you through where you will be taking that ball.
Arrr! Because this game is so addictive, I sometimes tend to forget that I have my crew with me and that we have treasure to collect. I get stuck in me cabin for hours just playing this game!
The Graphic Design
The graphic design is simple for a simple game like this.  Besides, the game does not require complicated graphics for such simple mechanics.  Overall, the graphic design is very cartoony and neat.  I suppose so that it does not distract you from your main objective which is to shoot the ball.
Of course there are attempts to make the game easy on the eyes. After all, the graphic design is close to half of your total gaming experience, right? There are several sceneries to choose from when playing the game like the airport, a nearby cafe, and the beach. Now I no longer envy my neighbors who can play basketball. After all, how many of them can say they've shot some hoops in an airport? None I'm sure!
To add to the excitement of the game, there are several ball designs that you can unlock as you advance. At least this way, you won't be stuck with the same old basketball. Arrr I hope in future updates, there's a ball with the Jolly Roger on it!
The Verdict
If you're looking for a game that you can play to pass the time while waiting for someone, or while you're on a 15-minute break at work, then this game is for you. Just be careful, what you think is just 5 minutes of game time, will lead you to hours and hours of addicting fun!
For such a simple game with simple mechanics and graphics, this one can be too addictive.  I suppose what makes it addictive is trying to outdo yourself every time, and trying to outdo the players online.
Perhaps one major downside to this game is that it is currently available only for Android users.  Hopefully, in the future, they will consider developing a version that even iOS users can play with. After all, I am an iOS user, and I'm only borrowing my fellow buccaneer's Galaxy Tablet so I can play this game. Arrrrr!