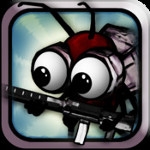 Ahoy, me Hearties! It's me again, your one and only pirate app, giving you another great game that you can play on your gadgets.
A lot of people may not know it, but aside from my parrot pet, I'm also fascinated with bugs. This is why when I learned about the game Bug Heroes, I counted me remaining booties and sold them to purchase it. I was happy with the game and ye lads and lassies will definitely enjoy this one too. Weigh anchor and hoist the mizzen, and start playing.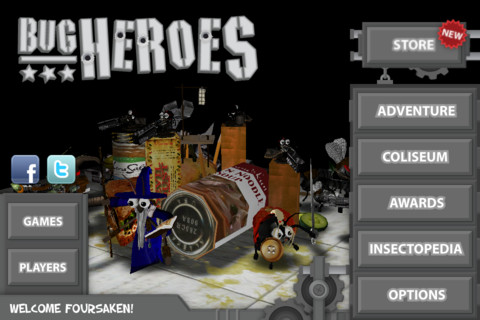 The Game Play
Collect foods and defeat the hungry bugs that are trying to eat those the your stored. There are 11 bug heroes to choose from. They have varying skills that will help ye buccaneers take down the enemies. Choose 3 heroes to use for the game, which you can swap anytime if you feel that the skills of the other one will be helpful for the situation. The bug heroes that you can choose from include ant, beetle, spider, mantis, fiddler crab, fly, ladybug, stickbug, grasshopper, worm and termite.
There are more than 50 types of opponents to face that have their own strengths and weaknesses. The Insectopedia option of the game will give ye lads a complete list of all these enemies and their features. This will help ye come up with a better strategy on how to take them down. The button on the left of the screen will let you move your bug heroes from left to right or up and down. The button on the left will let you adjust the direction of your shots. Kill the enemies to earn more points and pennies. This will make your heroes level up. The points you earned can be used for upgrading the skills of your bugs to make them stronger. Upgrade their attack defense, movement and endurance to feed all ye enemies to the fish.
The pennies can be used for upgrading the weapons of your heroes and buying turrent. You can place four turrents around your food storage to serve as extra protection. They can be upgraded to make them more powerful. Some of the turrents that you can choose from are the bug bomb, charger, cultivator, fire cracker, forcefield, and laser turrent. There are different maps to complete making the game more interesting. They include the attic, garden, kitchen, living room, office and more.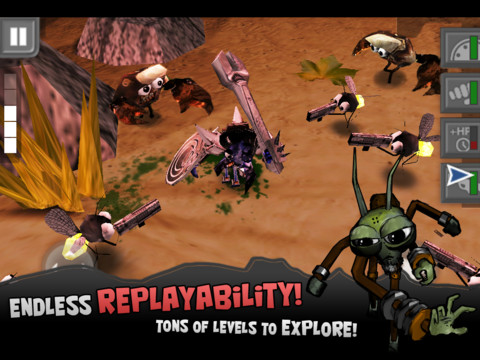 Maps and heroes can be unlocked on specific levels. However, an in app purchase will allow you to use them early, as well as let you buy more coins for upgrades. But as a real pirate, I completed all maps without any purchase, making me proud to wave the Jolly Roger. There are also side missions given on each level giving you a chance to earn more pennies. But it's up to you if you want to accept it or not. I played them though for more booties. Yo ho ho!
The Good
Even my parrot friend agrees that the graphics of the game is great. Two thumbs up for its lively color and eye catching background and characters. Controls are easy to learn even new buckos will know how to use them in a jiffy. The Insectopedia option is a great feature allowing ye lads to learn about the enemies and plan on how take them down. The side missions can help ye get more pieces of eight if you need them.
The Bad
Though the leader board feature is already available on the latest release of Bug Heroes, it still doesn't include Game Center achievements, which is something that iOS apps fanatics like me and me mateys like. Also, the bugs seem to move very slowly, until their movement skill is upgraded. Some of the maps are huge so moving in a slow pace takes time to complete the stage.