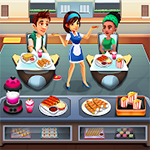 Ahoy there me hearties! It's me again, yer favorite friendly app pirate ready to give ye another app review. One of the perks of sailing the ocean is that we also get to dock on different places, and even spend a few days there. We traveled various cities around the world, and we loved eating their famous recipes. Every city has their winner foods, so it's hard to tell which the best is. We also learned how to cook them in case we crave for them while sailing in the ocean. The app that we will have for review today also has something to do with cooking. It's called Cooking Café – Food Chef by Rendered Ideas. Batten down the hatches and let's start.
Different restaurants and dishes available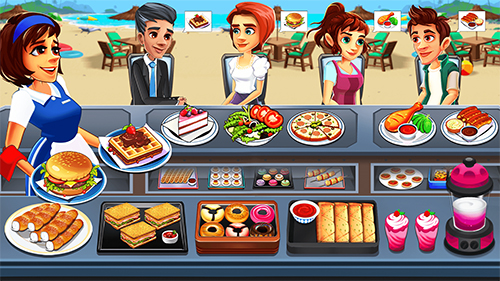 You will unlock different restaurants so the background will be different. One is set on the beach, and the others are indoor dining. There are also different dishes that you will unlock and serve. More dishes will be available as you go to higher levels. There is no problem with the animation as the characters move smoothly. That includes the chef, waitress, and the customers.
The small window can get crowded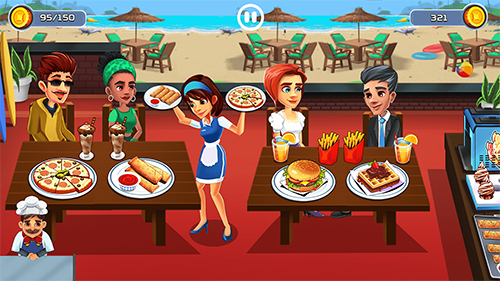 The game interface is a bit small. Unlike other restaurant management games where you will see the foods served properly, you can't see them in detail because of the small size, although you could still tell what they are. In higher levels where there are several tables, the scene can get too crowded so you get to click another table by mistake.
Hundreds of levels available
As of this writing, there are 200 levels to play. It's a fast paced game, so if you play for long hours, it will be easy for you to complete all levels. There are still no new levels, although it says on the app there are new ones coming soon. You can go back to the other levels that you played if you wish to.
It's free with minimal ads
You can download the game for free. It offers in-app purchase, although you will not be forced to buy using real money. You can complete the game without spending cash. It has ads but they only play for a few seconds, so they are not really that annoying.
The ups
Cooking Café – Food Chef is free to download. It has different backgrounds for restaurants and wide-range of recipes to serve. The movement of the characters is also smooth. There are minimal ads so you will not feel annoyed while playing.
The downs
The game window is small so you can't see every detail of the food items like with other restaurant management games. The tables can also get crowded on higher levels, so you can mistakenly click on the wrong customers.
The verdict
Cooking Café – Food Chef doesn't offer something new compared to similar restaurant management games. However, if you are into this type of game, you will enjoy playing this, especially there are only a few ads that do not play that long.