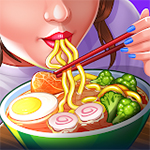 Ahoy there me lads and lasses! We had an amazing day exploring this island that we found by chance. We noticed it while checking the surroundings using the spyglass. We got curious so we decided to stop and check it out. It was a huge win because there were plenty of amazing items that we found. It called for a celebration, so we prepared a feast and of course, many bottles of rums! Good thing that me and the buckos are so used to parties that we came up with overflowing, delicious foods. If you are also into cooking for parties, we got the game for you. Batten down the hatches and let me tell ye more about the game called Cooking Party Cooking Games by GameiCreate.
It has incredible graphics and animations
The game has 3D graphics that are vibrant and detailed. There are different themes, so you will see various settings for the restaurants, such as under the sea and Halloween. It's eye-catching and it makes the game more enjoyable to play because it's exciting to unlock new themes and see what comes next. The animation is also incredible. Besides the customers moving in and out of the restaurant, the movement of the other objects like the food when cooking adds life to the game. 
It's free with the right amount of ads
It's a game that you can play and download without spending real money. In-app purchases are available to speed things up, and get your upgrades or unlock items quicker, but it's unnecessary. You can keep playing without making an in-app purchase if you want, although of course, it would take longer to get more items or upgrades.
It's not difficult to earn coins and gems
Unlike other free games, this app is not stingy when it comes to earning coins and gems. So, you'll get by, especially with the first levels. However, as you go to higher levels, it gets more difficult to move forward as the cost to upgrade gets higher too. It feels that the game gets longer because of this.
There are hundreds of levels
As mentioned, there are various themes, and each theme has hundreds of levels. You will have plenty of time to play, and you can also play the previous levels you unlock, where you did not earn three stars. If you are looking for a game you can keep playing and progressing for a long time, this one is an option.
The good
The game has amazing graphics and animation. It's free without too many advertisements. There are various themes and hundreds of levels to unlock giving you long playing time. It's also easy to earn coins and gems.
The bad
It gets more difficult to progress when you reach higher levels because the price of upgrades are more expensive.
The verdict
Cooking Party Cooking Games is recommended if you love cooking games. It has various themes that make the game more fun and enjoyable. It's free and it has eye-catching graphics and animations. There are hundreds of levels to play and the ads aren't too much. You can also earn coins and gems easily.