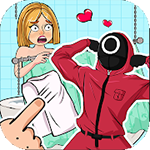 Ahoy there me lads and lasses! Yer favorite app pirate is here again ready to give ye another app review. Me know ye hearties are waiting for it. The crew and I are about to dive down Davey Jones' locker and we are excited to find more booties. Each time that we dive down there, we are never disappointed. There is always something new to explore. It may be dangerous, but ye know us buccaneers, we love the thrill. Har, har, har. So without further ado, let's begin the app review of this game called Displace Master, Brain Puzzle by GAPU.
It has cute graphics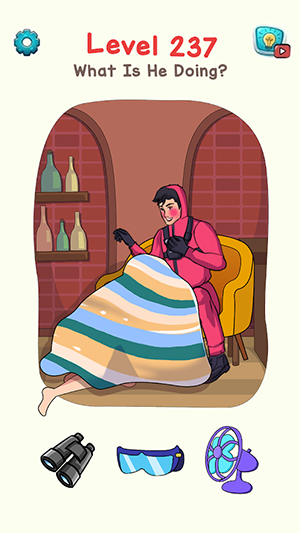 The graphics is cute, which makes it easy on the eyes. There is variety in the levels so you will see different things and scenarios. The drawings are cartoonish, but they are clean and colorful. There is also a little animation and confetti in the end when you finish a level. These small movements add life to the game. The graphics may not be suitable for everyone because of some too sexy images that are not for kids.
It's fast paced with several levels
Every level does not really take that long to finish. There are several levels, so even if it's fast paced, you can still look forward to play for a long time. However, some of the levels tend to repeat. So it would be nice if the developers replace the duplicate levels with new ones so all of them will be unique from each other.
It's not too challenging
Overall the game is not too challenging. There are levels where you need to choose the right object to complete the scene based from what's being asked. However, there are also levels where you just put all the objects on the screen, so they would not really make you think. If you are into difficult or highly challenging games, this app may not be for you.
It's free but with many ads
You can download the game and play it for free. However, it comes with plenty of ads. It also keeps asking you to rate the game after every few levels. You will keep getting that until you actually rate it. However, in order to give a rating, you may want to have a fee of the game. So it would be best not to ask for a rating early on the game.
The good
Displace Master, Brain Puzzle is a free to download and play puzzle game. It has cute graphics and it comes with several levels. There are also fun animations and it is fast paced so you will not be bored of long playing time before completing a level.
The bad
The graphics may not be appropriate to kids because of the sexy images. There are also plenty of ads and some of the levels are the same as the others. It's also not too challenging.
The verdict
If you are looking for an easy puzzle game with fun graphics to pass time, Displace Master, Brain Puzzle is one app to add on the list. Its hundreds of levels will keep you occupied for hours without getting stressed out.