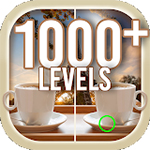 Yo, ho, ho and a bottle of rum! Ahoy there me hearties! This friendly app pirate is about to go on another booty hunting adventure. We found a map that led us to our next exciting destination. But don't worry, this old salt did not forget about the app review me know ye have been waiting for. I'll share with ye something that will make your brain work. It's a find a difference type of game that me always play. It sharpens me brain and focus, which help me find even the most difficult to find treasures. So without further ado, let's begin the review of this app called Find the Difference 1K+ Levels by Wizards Time LLC.
It's has the same gameplay as other find the difference games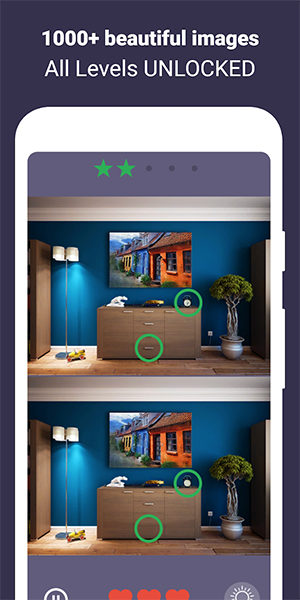 If you played find the difference games before, you will be instantly familiar with how it's played because it's exactly the same. So you are given two images that are almost similar to each other. There are subtle differences that you need to find to move to the next level. Unfortunately, you cannot move to the next level without completing the current one, so if you have trouble completing the level, you might get stuck on it for a long time.
It's challenging, but not frustrating
There are easy levels, but there are also challenging ones. However, the challenging ones are just right to test your concentration and attention to detail. But there are not frustrating since they are not impossible to solve. You might just need better focus on others, but other than that, you should be okay to complete them. However, some levels have glitches where it would not accept even if it's an obvious difference.
It's free with ads
The game is available to be downloaded for free. Although it comes with in-app purchases, you are not required to buy anything using real money. You can keep playing without spending cash. However, as you would expect in many free games, it also comes with several ads, that sometimes come out while in the middle of the game, which can be annoying.
There are thousands of levels to play
If you are into playing this type of game, expect long time fun because it has thousands of levels for you to complete. You can easily pick up from where you left of, so it's something you can play anytime you feel like it, or when you need to pass time.
The graphics are well-made
It has clear and gorgeous graphics. You will see that the developers spent time in carefully creating the images, as they do not look badly edited like other games under the same genres.
Thumbs up
It's free, challenging, but not frustrating, and it has clear and gorgeous graphics. There are also thousands of levels to complete.
Thumbs down
It has plenty of ads, and there are levels with glitches that would not accept an obvious difference.
The verdict
Find the Difference 1K+ Levels is recommended for players who are into find the difference type of games. It may have plenty of ads, but you can also expect thousands of challenging levels that will keep you occupied and will test your focus and attention to details. It's also free and it has amazing graphics.