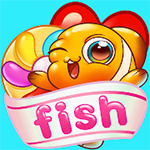 Ahoy there me lads and lasses. It's me again, yer favorite app pirate ready to go on another booty hunting adventure around the seven seas. Besides looking for treasures, one thing that we buckos have developed in our years sailing the sea, is that we became experts in fishing. Whether using fishing rods or not, we can catch fish, and other sea creatures. We also cook them when craving for seafood. It's nice that we can always get fresh ingredients whenever we need. Har, har, har. Speaking of fish and other sea creatures, the app we will have today also features them. It's called Fish Crush Puzzle Game 2021 bySolitaire Designer. Listen up and let's begin with the review.
Adorable graphics and animation
This match 3 puzzle game has an ocean theme, so you will be seeing different kinds of sea creatures like fishes and squids. The graphics is refreshing and it also has vibrant colors that are an eye-candy. The animation is also smooth and it gives life, especially with the special effects when several objects are removed from the game window.
It's free with several levels to play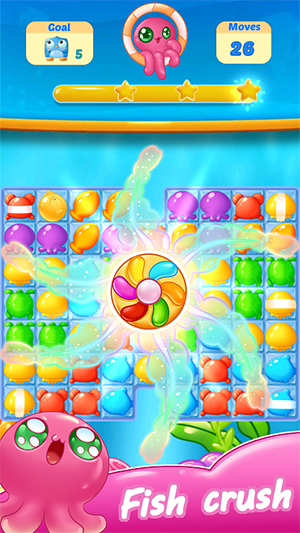 You can download and play the game for free. There are in-app purchases available, but you are not forced to use real money if you don't want to. That is still your own decision. There are several levels to unlock, so you can expect plenty of playing time. Although it's free, the ads are not too much, so you can still enjoy the game without being frustrated with continuous ads.
It's easy to learn but challenging
The basic gameplay is easy to understand. It's the same as other match 3 games where you need to match three or more of the same objects to remove them from the game window. There is an objective for every level, like removing a specific number of fish, with a limited number of moves. It gets challenging as the level increases because there are more obstacles that will hinder you from matching the right objects easily.
It can be repetitive
Although there are different sea creatures that you will see and other obstacles in higher levels, the gameplay is still the same. It can get repetitive if you are looking for a variety, but if you are happy to play match 3 puzzle games, then this is what it brings.
Thumbs up
It's free and it has adorable graphics and fun animation. There are ads but they are not intrusive. It's easy to learn but it has the right level of challenge. Although there are in-app purchases, you will not be forced to buy them if you don't want to spend real money.
Thumbs down
There is really nothing bad to say about this game. It may be repetitive because you have the same gameplay of matching three or more of the same objects, but it is how a match 3 game is really like. It didn't promise for anything else other than that, so it's really not a red flag if you are just looking for a match 3 puzzle game.
The verdict
If you love match 3 puzzle games, Fish Crush Puzzle Game 2021 is another title to add on your list. It's free, it has several levels, and with cute graphics that will make the gameplay more fun and enjoyable. The ads are also not frustrating.