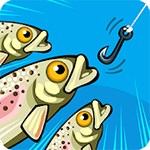 Yo, ho, ho, and a bottle of rum! Ahoy there me lads and lasses! Yer favorite app pirate is having a relaxing day today. We were busy with our booty hunting the past days, and we had plenty of great finds, so it's about time that we unwind and enjoy. One of me favorite things to do when it's our break, aside from playing with me parrot pet of course, is to catch fish. Aye, me and the crew compete on who will get as many fish, and who catches the biggest. As ye can tell, it's always me! Har, har, har! The app that we have for review today also has something to do with fishing. It's called Fishing Break Online by Roofdog Games. Batten down the hatches and let's start.
Beautiful images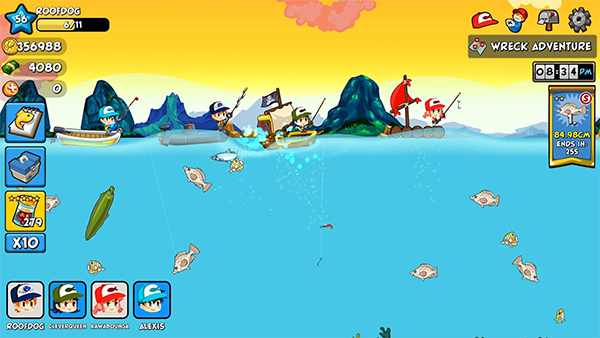 The images that you will see in the game, from the characters to the background, are eye-catching. They are detailed and crisp. There are also different worlds to unlock, so you will be fishing in the waterfall, jungle, and more. The fishes and gears also vary, and so as the boats and characters. There's a wide variety that you can see, and there are also a lot of things to unlock and upgrade. The movements of the characters and fishes are also smooth.
It's easy to learn and fun
The gameplay is simple to learn, so you will have the hang of it in no time. It also has a tutorial, so you will learn the controls as soon as you start. The controls work fine, and without hiccups. Holding left or right will make the boat move in that direction. Swiping will cast the line, and tapping and holding anywhere in the screen will make you reel the line. It's a fun and enjoyable game because there are different fishes to catch, and you will be competing with other players for that.
It's free and it's multiplayer
You can download the game for free, although it requires internet connection for you to play as it's an online game. You will be playing with other players, and competing on who will catch the most fishes. You can leave the game anytime, and your progress will be saved. When you go back, you will still have the same stats. However, it can get crowded when there are several players. It would be nice if you could create a private fishing world where you can invite friends to join in.
You can easily run out of baits on higher levels
If you run out of baits, and the coins to buy them, you need to wait for ads to be available, so you get free coins and buy baits. It can take time for this to happen, so you cannot continue playing even if you want to. Another option is to do an in-app purchase.
The good
Fishing Break Online is free and it has adorable graphics. There are worlds that you can unlock, different fishes to catch, and equipment to upgrade. It's multiplayer so you can play with other players. It's easy to learn and the controls work smoothly.
The bad
You need internet connection to play it and you can easily run out of baits on higher levels, while it takes time to collect them.
The verdict
If you are looking for a casual multiplayer game, Fishing Break Online is one to add on your list. It has gorgeous worlds so you will be mesmerized with the graphics. The controls are smooth and the gameplay is easy to learn. You will enjoy catching fish and competing with other players on who will get the most catch.