Ahoy, me hearties! Your one and only friendly app pirate is back from sailing the seven seas. Sea navigation is easy for me. I've been a cockswain for several years, assisting the captain in our journey to the ocean. But when it comes to land, it's a different story. It's very seldom that I stay on land so I'm not familiar with my way there. Even me parrot friend cannot help me either as it's always sailing on the sea with me.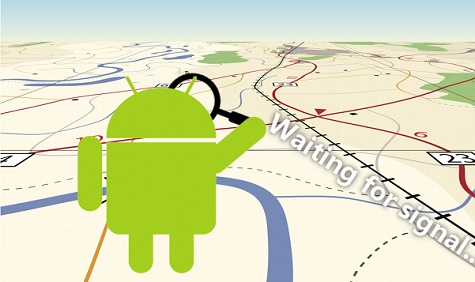 Good thing I have GPS on me Android device. But I've had problems with it in the past so I learned a few tricks on how fix Android GPS problems. If ye lads are having difficulties with your GPS, these steps on how to fix Android GPS issue can help resolve your concern.
What is GPS and How to Use It
GPS or Global Positioning System can specify your location, as well as help you get the direction to a place that you need to go to. There are various apps that you can use in the market to take advantage of this feature. However, the most popular is Google Maps. Download and install the application on your device to start using GPS.
Tap the Market icon on your home screen to launch.
This will open the Android Market.
Search Google Maps by tapping on the search icon (magnifying glass) then entering the keyword mentioned on the search field.
Once you found Google Maps application, tap on install to begin the download and installation.
Launch Google Maps once installation is finished.
Tap on My Location to learn what spot you are currently in.
Tap on Directions then enter a specific place that you wish to go to and get the direction. You may also tap on the search icon to search for a certain place.
How to Fix GPS Problems on Android
There are times that you may encounter problems using GPS on your Android device. Ye are not alone me lads. As mentioned, I also experienced this myself. Also, a lot of users experienced difficulties with their GPS after getting the ICS update. But don't worry, there are different things that ye buckos can try to resolve the problem. They include Android ICS GPS fix, as well as Android GPS quick fix. The easiest and the quickest fix for GPS concerns is restarting the phone. This step is often ignored though it can be really helpful. There are times that doing this simple fix can resolve the concern. Since it would just take a short time to do this, why not give it a try? In case the problem persists, there are more fixes that you can do to resolve the problem.
Enable Location Settings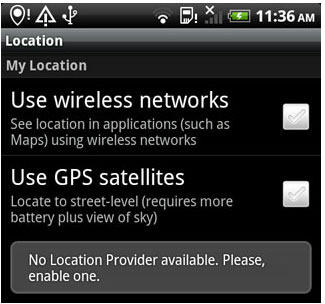 Enabling these settings will ensure that your apps can use the satellites, as well as WiFi and other networks near you to make GPS faster and more effective.
Tap Settings on your home screen.
Choose Location.
Tap on the button next to Google's Location Service to place a checkmark. This will enable this setting. On other devices, it would say Use Wireless Networks instead of Google's Location Service.
Do the same for the two options below it namely GPS Satellites and Location and Google Search.
Update Android Software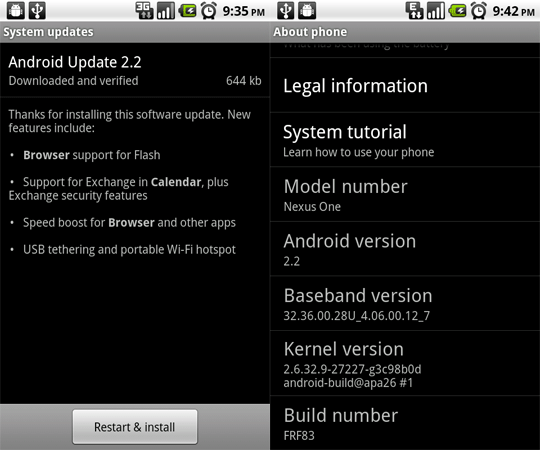 Ensuring that you have the latest updates on your phone can resolve not just your GPS problem but other issues on your device too. This is because new updates are usually released not only for added features but for fixing known bugs as well. Tap settings and check on software updates. The profile and PRL options are the ones responsible for communicating with the towers. This is the reason why they should always be up to date. If the two are not updated, perform the update and see if it resolves the concern.
Use GPS Status and Toolbox
There are the times that the signal is just too weak that it prevents your GPS feature from working properly. You can use GPS Status and Toolbox, which is an application that will reset your connection to the towers to get a better signal. When you reset your connection, the cached GPS data will be cleared, thus creating a new and fresh connection. Download this app on the Android Market to use.
Perform a Factory Reset
Performing a factory reset should be your last option since this will erase the settings on your phone, as well as your text messages. Files saved on your SD card should be fine as long as you do not reformat it. Applications that you have downloaded from the Google Market can be reinstalled. Make sure that you back-up all information and files that you would like to save before doing factory reset. This will put your phone back to its original state ensuring that all features would work properly.
Press the Menu option and select Settings.
Tap on Privacy.
Choose Factory Reset.
  If you do not want to remove any files on your SD card, keep the box next to Erase SD Card unchecked.
Tap the Reset Phone button.
Wait for the process to finish. The device will reboot once done.
Enter the information needed and start reinstalling your applications and customizing your preferences.