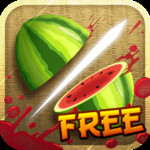 Ah, now here is a game that me rusty cutlass can really sink its teeth into – Fruit Ninja. Aye, the app pirate loves any game that involves chopping, slicing, and dicing. Ya know what? All this talk about slicing and me cutlass has made me crave for a battle. And, me crew at the crow's next sees a ship at the horizon. So, off to battle and more loot we go. But before that, here is a quick look and see at what the peeps see with Fruit Ninja.
It's Simple
Aye, Fruit Ninja, a game that you can find on virtually any device, be it iOS, Android, or Windows powered, is a rather simple game where you are a ninja and all you do is slice fruits all day long. Aye, fruits will be thrown at you from out of the blue and your goal is to slice and dice for points. Like pretty much every game out there, the measure of success is in the points. So, the game is simply, slice as many fruits as you can to get more points and become the badass around town. Penalties come with every fruit that isn't sliced before it reaches the floor. So be vigilant for an apple or orange that you miss on a swipe.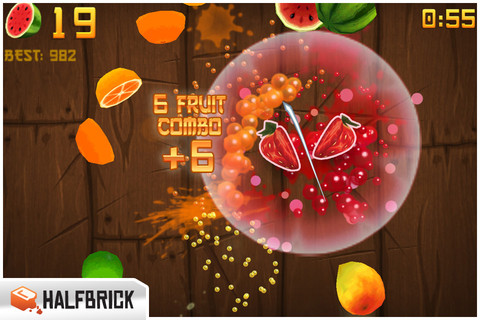 Ready, Get Set, Swipe!
The controls for this extremely simple but fun game are not complicated. Swiping from left to right is all you need to remember. Once the fruits are thrown in the air, position your fingers at the left side of the screen and start swiping. You can do multiple swipes or you can time a single swipe to get a combo, which basically happens when you get to two or more fruits in one swipe. Beware, though, while most of what you will encounter will be fruits, depending on the game mode you are on, you may encounter bombs, something that you really don't want to slice along with the fruit (since a bomb could literally drop your score in one blast). To counter those pesky bombs, keep a watchful eye on bananas, which can do the opposite to your score, especially if you include it in a massive fruit slicing combo.
Game On
The game has 3 gaming modes – Arcade, Classic, and Zen. The difference between these 3 modes is the time limit for fruit slicing, the inclusion of bombs and bananas, and the multiplayer mode. Currently, the multiplayer mode is only available in the Classic and Zen game modes, where you will be pitted against a foe for a head to head slicing and dicing match.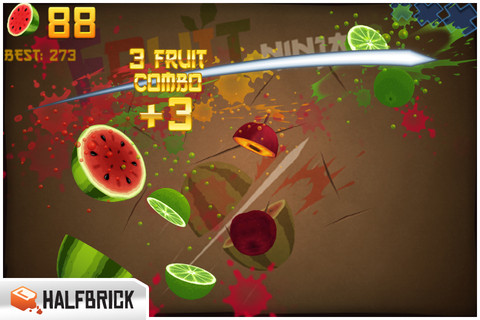 It's a Money Maker
Fruit Ninja is a free to play app that is virtually ad-free. However, do not doubt that the developers behind this simple but ingenious game don't get a dime out of our fun. The app has an in-game store called the Dojo where people can purchase add-ons to the game such as custom backgrounds, better blades, and other items that may prove to be beneficial, most especially on head to head clashes.
It Performs Perfectly
The interface and graphics are nothing fancy. Fruit Ninja runs fast and smooth on any device it is compatible with. Its graphics are cartoon-like mixed with a hint of 3D effects (which you can see whenever a fruit is sliced and splattered). Any newbie can master the game in a few minutes of play. And, any Fruit Ninja veteran will most likely want to play it over and over again, not because it is littered with tons of achievements you can unlock but also because that veteran will want to continuously hone his skills for the next head to head Fruit Ninja battle.