Yo, ho, ho and a bottle of rum! It's me again yer favorite pirate. Me and the crew just got back from an exciting booty hunting adventure. As ye may already know, we were able to find a lot of treasures! This old salt still has me mojos and skills. Har, har, har! We went to an island that had an underground dungeon. There were plenty of booties, although it was a bit creepy to explore. But ye know these buckos, we will never back down, and it paid off. It's time to give ye a treat, and by treat this buccaneer means an app review. Are ye ready? Let me give ye a review of this app called Good Knight Story by Turbo Chilli. Batten down the hatches and let's begin.
Excellent graphics and fun music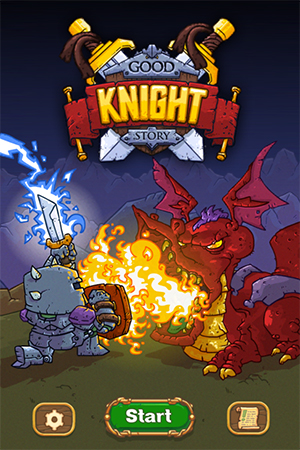 The graphics are top quality. From the characters to the background, the work is in detail. The animation is also smooth. You will feel that you are in a dungeon with the artwork. There are also different enemies to fight, including the bosses. It is accompanied with fun music that is perfect for an adventure type of game. There are also dialogues and sound effects that make the game more exciting.
It's a mix of adventure and match 3 game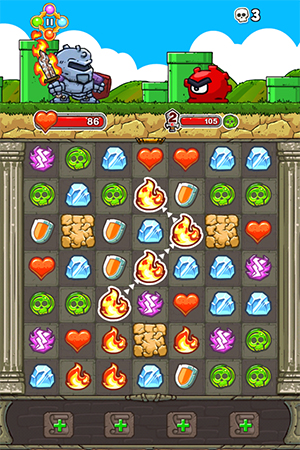 It has the same gameplay as other popular match 3 games, but the adventure side is a fantastic addition. If you love roleplaying, adventure games and match 3 games, this game offers you all that. You will play the character of a knight who will fight against enemies. You need to connect the same objects before the enemy attack, so you can attack it instead and kill it.
It has a story and storytelling is enjoyable
The way that the story unfolds is fun. As mentioned, there are dialogues between characters, so it's like watching a movie. You will not only enjoy playing, but you will be looking forward to what will happen next in the story. It begins with a group of knights drinking. Your character will wake up in a dungeon, and the adventure starts there. A leprechaun will guide you on what to do.
It's free, but upgrades costs much in higher levels
You can download and play the game for free. It currently has 125 levels as of this writing. There are upgrades and power ups that you can get to make your attack stronger, which you will need for the more difficult boss levels. However, the upgrades can cost a lot, and the higher levels can be very difficult. You may end up frustrated for having to repeat those levels and complete them.
Thumbs up
It's free to play and it has excellent graphics and fun music. The animation is also smooth and there are hundreds of exciting levels that await you. There is also a story that unfolds in an enjoyable and interesting way.
Thumbs down
Some of the upgrades can be costly, especially on higher levels and the said levels are also too hard to finish.
The verdict
Good Knight Story is highly recommended since it offers adventure, roleplaying and match 3 games in one app. It also has super graphics, fun music, and an exciting story. It can be frustrating to finish the higher levels because they are too difficult, but if you are after the challenge, you might even enjoy the said levels.