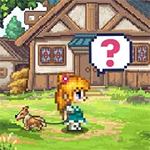 Yo, ho, ho, and a bottle of rum! Me and the crew are about the sail the seven seas again after a short vacation. We had fun doing all the stuff that we can't do when on the ocean like going to the market, playing in the arcade, and going to the movie house. Aye, we can watch movies and series on our devise, but we still miss the big screen in the cinema, and of course the popcorn and drinks while watching the film. But we also miss the sea when we are on land, so it's nice to be back and we are ready for more booty hunting adventure. Before we get busy again finding treasures, let me give ye an app review me hearties. Avast ye and me tell ye this game called Harvest Town by Avidgamers.
It has cute pixel graphics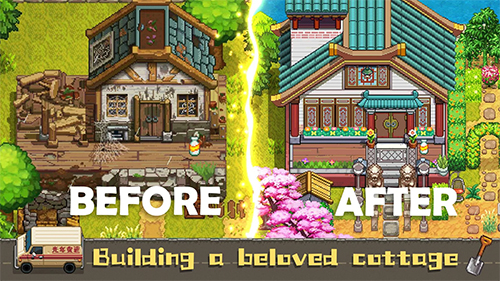 It will take you back to the 90s when video games had pixel graphics, and it brings nostalgia. Although many apps now are made in 3D and they are competing with their advance graphics and animation, it's refreshing to see something simple, yet detailed. The overall look of the game will give you that relaxing feel because the background, elements, and other objects that you see are not too much in the eyes.
It has an adorable story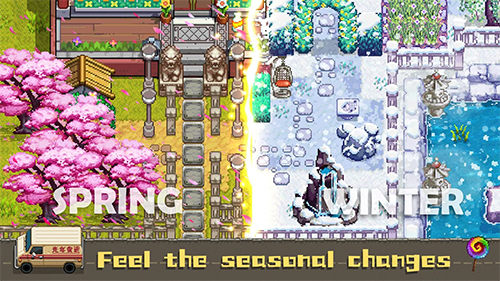 You can skip the story part, and speed up the gameplay, but we recommend that you do not so you would know the story behind it. It starts with an old man that is currently living in the city missing his old hometown, and regretting his decision to move out from there. He sleeps and like a dream, he was taken back to his younger years back in his hometown. There he meets the people he knew, like his grandpa John, who will show you how things are done. Meet more NPC or non-player characters and watch the story develop.
There is so much to explore
You will start cleaning and building your manor. There is so much to explore, unlock, and do in this game. You can decorate your manor, and build a farm for yourself, which will also serve as your source of income. It's not just about farming, because you can make something out of your produce, and sell the products. The season also changes from winter to fall. You also need to buy your resources. There are times that it may act up like the animals not coming when you ring the bell, but it doesn't happen all the time, and the glitch doesn't take long either.
It's free and the ads are optional to watch
The game is available for download without any cost. While it comes with advertisements, you will not be forced to watch them, and watching them will give you bonuses. You will need energy for your tasks, but it doesn't take that long to restore, and there are things that you can get to speed up energy restoration.
The good
The app is free, and it has simple yet adorable pixel graphics. It is rich in content and it has an interesting story that you will unravel as you move forward with the game. The ads are optional to watch and watching them will give you bonuses.
The bad
There are temporary glitches although they are usually fixed immediately.
The verdict
Harvest Town is a role playing game that is recommended for those looking for an RPG game that is free but does not contain too many ads. It has adorable pixel graphics that brings nostalgia. The game is rich in content so you are looking at plenty of game hours exploring and unlocking its rich content.