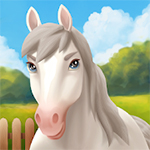 Ahoy there me lads and lasses! It's me again yer friendly app pirate ready to explore the seven seas and find booties. We just had a quick stop by land, and we did not miss doing things that we can't do when sailing in the good old Jolly Roger. One of them is horseback riding. Aye, these buckos are also into horses. If only we can bring one in the ship that would be great. But, since we could not, me parrot pet is enough when we are in the ocean. That's why when were in land, we take advantage of the chance to go in a ranch or horse racing track. Since I still can't get enough of the experience, the app that we will have for review is also about horses. It's called Horse Haven World Adventures by Ubisoft Entertainment. Batten down the hatches and let's begin.
It has a story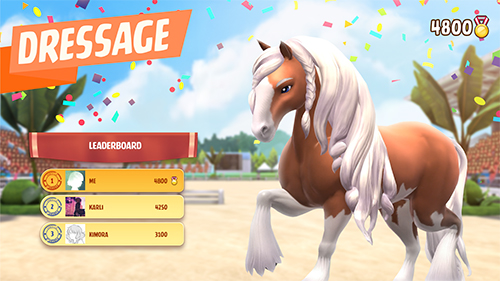 You will not just go straight to playing the main game because it will start with a story. You will meet new characters and unfold what happens next as you go along with the game. It starts with your Aunt Carol asking you to rebuild and manage her ranch. Your cousin will guide you along the process, and as mentioned there will be other characters that you will meet, who will also help you in managing the ranch. The dialogues of the characters also serve as instructions on what to do next. There are tasks that you need to complete to level up and unlock more worlds.
Superb graphics
This free game has adorable graphics. You will start with one horse that you will feed and care for to grow. You can also breed horses and create new ones that you can name and customize. It's nice how you can change the looks of your horses. The different backgrounds that you can unlock and explore also adds to fun of the game since you will not just be seeing one setting.
It's rich in content
There are several types of horses to unlock and customizations to be made. There are also different backdrops to unlock when you compete in horse racing. You will race in different countries around the world. Aside from breeding and caring for horses, you will also grow crops in your farm and manage it to become productive.
Coins and gems are hard to earn
Coins can only be earned through ads, buying through in-app purchase and selling crops. Gems on the other hand are earned through the first two options. While you can continue playing the game without making an in-app purchase, it may take for processes to finish and for other contents to be unlocked because it will be slow to collect the coins and gems that you need, especially on higher levels.
Thumbs up
The game is free and it has adorable graphics. It offers customization and it is rich in content. It has a story that you can follow and uncover as you progress with the game.
Thumbs down
The coins and gems are difficult to collect, making processes slower.
The verdict
It's recommended that you try Horse Haven World Adventures if you are looking for a management game that offers a different theme. Instead of the usual farm or city management games, you will be managing a ranch and growing horses. It's free, with rich content and adorable graphics.