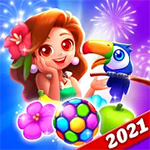 Ahoy there me lads and lasses! Yer favorite app pirate is back from another booty hunting adventure from the seven seas. The last island that we explored was a huge challenge. But as ye know, we buckos are the best in what we do, so we successfully found the hidden treasures. This island is notorious because there's a word going around that many buccaneers tried to find the booties, but a lot of them did not make it out from the island, while others were unsuccessful. It reminds me of this app that I decided to share with ye today. It's called Island Crush by ZY Puzzle Games. The story behind it is similar to what I said. Many explore the island but they did not make it out. You will play the role of an adventurer who will explore it. Avast ye and let's begin.
It's your usual match 3 puzzle game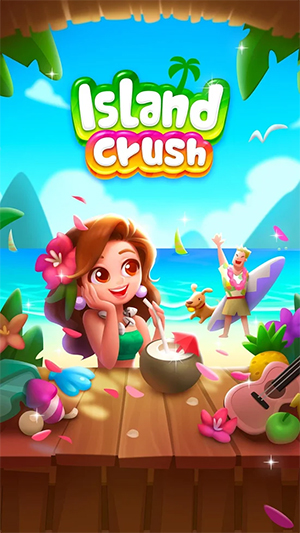 The basic gameplay is the same as other match 3 games where you need to match 3 or more objects to remove them from the game board. You have a goal for each level on what objects to remove and how many of them. The limited number of moves give it a challenge. You also have a limited number of lives that you can use if you were unsuccessful in clearing the level. If you run out, you need to wait for some time before a life will be restored. It doesn't really offer something fresh when it comes to gameplay, although it differs on the images.
It has bright and adorable graphics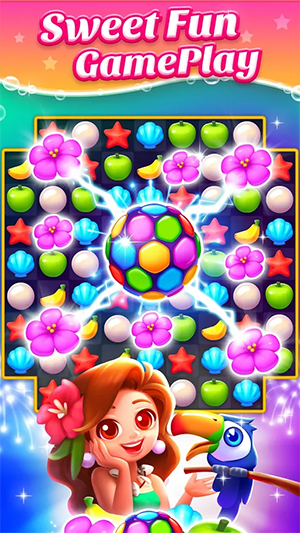 The app comes with vibrant images that are eye-catching. The game map where you will find the levels stay true to the title of the game. You will feel that you are in an island as you will see green trees and grasses, umbrellas, water, and fruits. Even the objects in the game itself are pleasant to see. They are refreshing because of the bright colors.
It's free but come with lots of ads
You can download and play the game for free. However, there are many advertisements and after a few levels, you will keep getting the message to rate the game. It will stop when you rate it, but it would have been better if there is a way to skip it without closing the app, especially if you are still playing early in the game.
It has over a thousand of levels
As of this writing there are over a thousand levels available and you can replay the levels you completed if you want. More levels are also added every month, which mean that you will not run out of levels to play as there will always be something new.
Difficulties connecting to Facebook
It has the option to connect to Facebook that will earn you extra coins. However, there are times that it will not let you. It seems like a system glitch because it says there's a problem with the connection even when the connection is stable.
Thumbs up
Island Crush is free to download and play. It has vibrant and adorable graphics with thousands of levels. It's easy to play but also gives challenges.
Thumbs down
It has several ads, and connecting to Facebook can be difficult at times. It also keeps asking for a rating early on in the game.
The verdict
Island Crush is your typical match 3 game. It doesn't really offer anything new except for the graphics, but if you are into this type of genre and you are looking for other options, this app is an excellent candidate. You will fall in love with the graphics, but you just need to live with ads.