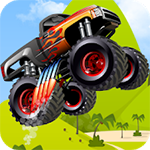 Ahoy there me lads and lasses! Me hope that ye all are having a great time because me and the crew are having a blast! After a series of successful treasure hunts, we decided to go for a little break and have fun. We just had fun in the arcade and we are headed now on a monster truck show. Aside from the good old Jolly Roger, we buckos also have interest on other kinds of vehicles like monster trucks. Since me feel very excited about seeing those trucks, me decided that I will share with ye hearties an app that is also about that. The game we have for review is called Monster Truck Hero from Goodfox Games.
High quality graphics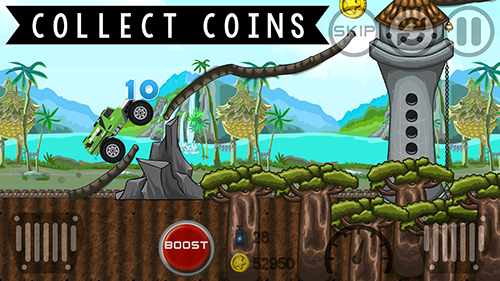 Job well done with the graphics of the game. It's in HD so you will see how crisp the objects are. There are also different environments available, which is fantastic as you will not get bored seeing the same background over and over again. There are various environments to choose from that come with different levels. Some of them are jungle, beach and desert. There are also those that are set in winter that shows snow on the terrain.
Various monster trucks to collect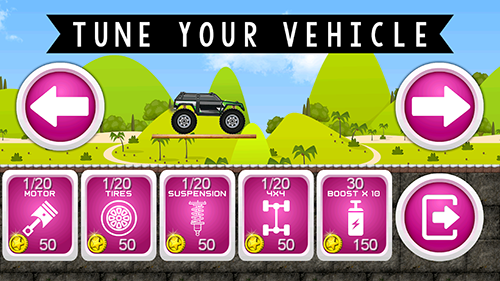 You will not just be stuck using the same monster truck every time. As you move forward with the game and collect more coins, you have the option to purchase more new trucks that you can add in your collection and use in the game. There is also an option to tune them up, which also cost coins.
Challenging and fun
The game is enjoyable to play with the right amount of challenge as it uses real physics. You need to maneuver the car properly so that not only can you pass the obstacles, but also you can collect the coins that are sometimes placed in difficult to reach areas. The level of difficulty varies. Although some are more challenging than the others, they will not frustrate you, but rather challenge you.
Free but comes with ads
You can download the game for free and as you would expect, it comes with ads. However, they are not intrusive so you can play the levels without really being bothered by the advertisements. The ads show up after every level though, which is still acceptable and livable.
The ups
Monster Truck Hero is free to download and play, making it ideal for those who don't want to spend real money with their games. The graphics are amazing. There are various backgrounds to see and trucks to collect. It's challenging without being frustrating and it's fun to play.
The downs
The difficulty level is random. There is no option to choose a category with regards that to meet your current gaming level.
The verdict
Monster Truck Hero is recommended for those who are looking for a casual game that they can use to pass time without spending real money. It's fun, it has the right amount of challenge and it has gorgeous HD graphics.