Ahoy there mateys! It's me, your friendly neighborhood app pirate for another review on my great app finds.
Sailing through the seven seas is the life for me.  I love going through all sorts of swashbucklin' adventures in search for treasure, sea monsters to strangle, and of course, mermaids (Arrrrr!). Believe it or not, despite all the exciting adventures I go through on a daily basis, I do miss my mum and dad, and all the friends I've left on land (not to mention fellow buccaneers from other pirate ships). Lucky for pirates like me who're always overseas (literally), is there are several apps I can use to communicate and keep in touch with friends and family.  And one such app a fellow buccaneer highly recommended me to try was Nimbuzz.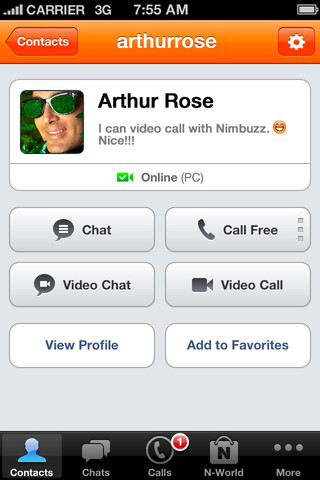 The Buzz on Nimbuzz
What is Nimbuzz? Arrr! Nimbuzz is a social networking app that uses the power of internet and smartphone capabilities so you can make voice calls, video calls, and text messages absolutely free! And it does not stop there. With this app, I can even share photos of my adventures to my friends, as well as music files.  What makes this social networking app stand-out from most apps of this kind is it allows you to connect with friends on Facebook, Twitter, Yahoo Messenger, and Live Messenger. So you're not just limited to people on your smart phone's contact list, you can connect with friends on four of the most popular social networking sites worldwide! To add to that, you can even connect with your Skype contacts for a video chat! Shiver me timbers! It's the all-in-one social networking app!
Now before you go wondering if you're smartphone can support this miracle of an app, don't even worry about it. This app is supported by iOS, Android, Blackberry, Symbian, Java, Windows, and Mac! Another shiver me timbers on that one! Oh and did I forget to mention that this app is absolutely free?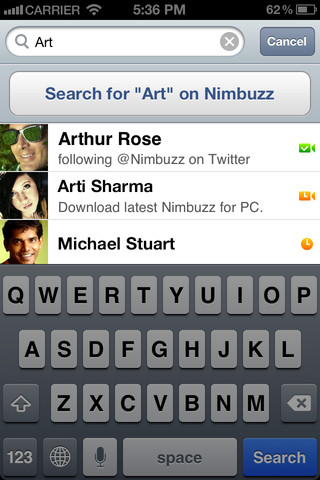 The User Interface
Arrrr . . .  I bet you're thinking, "For an app with so much capabilities and features, it'll probably take me millions of years to figure this one out." Well . . . if that's what you're thinking, think no more! The user interface is very simple and user friendly.  The overall look definitely differentiates it from other social networking apps (and it should), but not too unfamiliar that it gets complicated.  A lot of the features closely resemble that of the iOS or Android, so it does not get confusing for most smart phone users out there.
App Pirate Says
App Pirate says this app is definitely worth the download. As I've said, it's THE all-in-one social networking app. It allows you to make FREE voice calls, video calls, and chat conversations to replace your usual text messaging.  The video call feature makes up for the fact that Face Time can only be used if you have a Wi-Fi connection, whereas this app can do it even with just your 3G connection.
At times, you'll notice that there's a 2-3 second lag when making voice calls and video calls, but considering that this app is absolutely free is not a problem.  Most of the time, it works perfectly well.  Of course, this problem is not entirely dependent on the performance of the app itself. Sometimes you also have to consider the quality of your network service provider.
And again, as if I haven't been mentioning this already, what's great about it is it's the app that connects you to all of your contacts, whether from your address book, Yahoo Messenger, Facebook, Twitter, Live Messenger, Skype, etc. Ain't that great? And lastly, it's easy to use.  So if you plan on using this app to connect with your parents who aren't very tech-savvy, then this app will definitely easy for them to use. Of course, you can only truly maximize this app if you tell your friends about it and encourage them to connect using this app. So go spread the word!