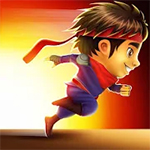 Yo, ho, ho, and a bottle of rum! Ahoy there me mateys! This old salt just got back from a booty hunting adventure with the crew. There were unique finds that we have never seen before. We were ecstatic to find them. We couldn't get enough, so we are just taking a little break, and we will be diving back to the bottom of the ocean and explore the sunken ship that we found. We know that we could still get more treasures from down there. There's no need to worry me lads and lasses, because this bucko will not miss your regular dose of app review. So, before those buccaneers call me for the booty hunting, let me start with the review of this app called Ninja Kid Run by Fun Games For Free.
Crisp and clean graphics but repetitive background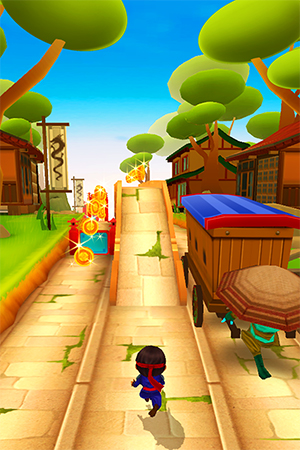 The game has high-quality graphics that is clean and crisp. It is attractive since the images are well drawn. As the title suggests, the main character is a ninja kid. It lives up to the title as you could determine that the character is indeed a ninja basing from its costume. When you think of ninjas, you would probably think of the country Japan. The setting will remind you of Japanese homes in the country setting. There are also trees and flags with dragon image. However, the background just keeps on repeating, so it gets boring in the end.
Same gameplay as most endless runners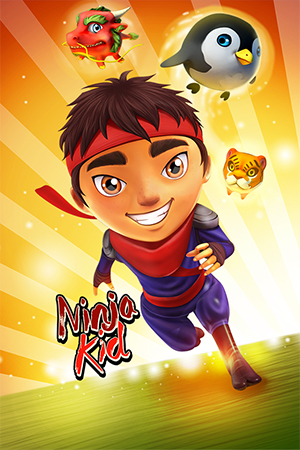 Ninja Kid Run has the same basic gameplay as other endless runners like the popular Subway Surfers and Temple Run. You must run as far as you can to get the highest possible score. There will be obstacles along the way so you need to swipe up, down, left, and right to avoid them. Hitting these obstacles will end the game. What makes it different is that there are pets that you can collect throughout the game, and you could bring with you during the run.
It's free but there are glitches and pop-ads
This app is free to download and install. However, as you would expect on a free game, it has advertisements. What's annoying is that they could pop-up while playing and there is no option to close it so you either need to click it and to another site, or watch the video ad. There are also times that it has glitches, where it lags or the screen turns black.
The good
Ninja Kid Run is free to play and it has clean graphics. It has a simple gameplay that you will be instantly familiar with if you played other endless runners before. There are pets that you can collect and run with as you progress in the game.
The bad
There are ads that you cannot close and there are glitches every now and then.
The verdict
Ninja Kid Run has its ups and downs. If you are looking for another endless runner to kill time, it's something to add on your list of games since it's free and it has a simple gameplay. It may be repetitive, but it's something to occupy your time and mind.