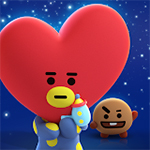 Ahoy there me lads and lasses! It's me again yer favorite app pirate ready to explore the seven seas to find more booties. Some of me landlubber friends took me to a concert when we had a few days' vacation on land. It was the concert of this group called BTS, and although it was the first time that me saw them, I was impressed with their performance, so I instantly became a fan. I made sure me bought their albums and merchandise before we went back to the ship. Aye, ye will see a lot of their stuff on me room. Har, har, har! So, the app that I will share with ye today is also related to this group. It's called Puzzle Star BT21 by IPX Corporation. Avast ye and let's start this app review.
It has cute graphics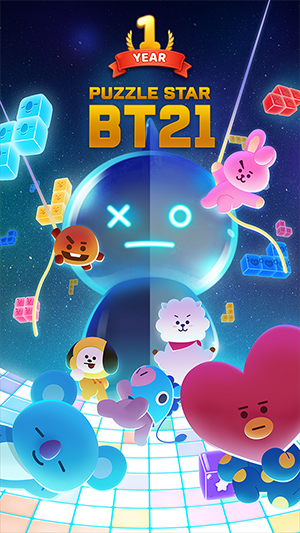 If you are a BTS fan, you will instantly fall in love because everything you will see is about the BT21 characters. There are also various worlds that you can unlock as you finish more levels, such as the BT singing room, bus stop, and practice room. As of this writing, there are new episodes released every couple of weeks, so there's always something to look forward to.
The difficulty level increases
There is a tutorial at the start of the game, so you will know what to do. The gameplay is easy to learn that you will be able to familiarize yourself with it in no time. There are different missions and objectives to complete. Some have limited moves and the others have time limit, which add to challenge. The difficulty levels increase as you go to higher levels. You might find yourself playing some levels many times before completing them, but they are still doable, and not impossible to finish.
It's free and requires internet connection
You can download the game for free, and although it has in-app purchases, you will not feel forced to buy them. You can keep playing the game without spending anything, making it a good option for those who do not want to use real money with their games. However, you cannot play it offline. It requires internet connection to keep playing.
It loads slow and hangs at times
There are times that the app loads slowly, and it also sometimes hangs, especially when there are ads playing. You may need to close the app and open again when this happens. Although it has ads, they are not too intrusive, so you can still enjoy playing without being bombarded by them.
The good
The app is free to download and it has cute graphics. It's a treat for BTS fans because everything is about BT21. There are new episodes every couple of weeks giving you something to look forward to. The difficulty levels increases, but they are not impossible to complete.
The bad
It's not available to be played offline, and there are times that it hangs or load slowly.
The verdict
Puzzle Star BT21 is highly recommended for BTS fans. Even those who are not a fan of the group but are into puzzle games with cute graphics will find this interesting. There may be times that it hangs or loads slow, but generally, it's an app that is worth trying.