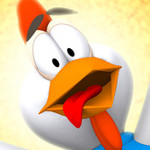 Swashbucklin' can take its toll even for a great pirate like yers truly. And yes, even me lads get seasick sometimes. Oh, poor Jolly Rogers, she gets the losing end of that seasickness. You see land lubber, that is what happens when you see deep blue all day long. That is why at the end of the day or during our free time, we look at our apps just to see something new. Like for example this mobile game app that is an ode to a famous vide game icon. The game Chicken Invaders is a twisted version of the iconic old game Space Invaders. See that is what I play in my free time. Here is my review and see what you think of it.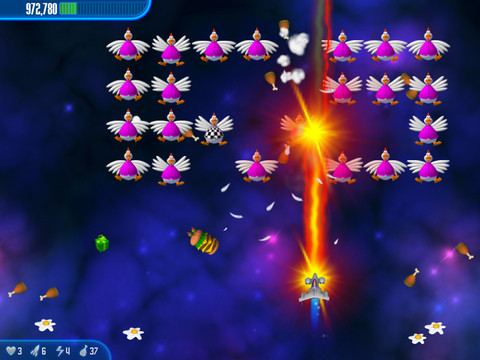 Space the Final Frontier
Arrr! When you see the deep blue sea each and every day, to see the outer space in your mobile device can be a welcome sight. See matey, this is what Chicken Invaders is all about. The background of the game is set in space. This setting keeps it in line with its source or inspiration, Space Invaders. So what is exactly Chicken Invaders? Imagine your favorite arcade game Space Invaders. There, do you have it in your mind now? Instead of shooting down cute pixel warriors that moves left and right and bops up and down, you will now be shooting down, chickens in space!!!! How crazy is that? Very very crazy for a pirate who plays and reviews mobile game apps on the side while his ship is docked at bay. So instead of going up against fear striking pixel aliens, a horde of fear striking chickens descend upon you and your ship. When chicken once feared to thread the other side of the road, they now have braved the high way and so many other places. In this game the fowl fiends have gone to space, the have boldly gone to where no chicken has gone before. The simple twist in the famous classic makes for a great game. Though it may not be as original in terms of many things, the novelty of the cute little twist is enough to get you hooked in shooting down chickens in space in no time at all.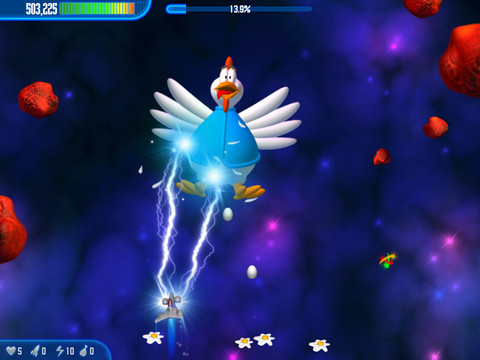 Instant Arcade Classic
All right mateys, do you think you have to pull out a penny and put into an arcade? Well it is like your father's favorite arcade game but you will not need that penny any time soon. The game plays like the original game. And it is such a shame if you have not tried playing space invaders at your age. Well unless you me lads and me lass are digital natives. You know, the ones who were born way too late. So for the young folks and fellas out there, here is how you play the game. You will commandeer a ship and it will be placed on the bottom of the screen. You can move left and right to aim at the enemies. The chickens, your enemies, will be coming from the top. They can come in lines of four or whatever formation that will make it hard for you to win. Their movement, is downward towards you. The chickens are going all out on this campaign. They are even willing to sacrifice their eggs just to pin you down. So as they descend, eggs will be hurled at you. The game play is quite simple but highly addictive.
The Sights and Sounds in Space
The game is truly an ode to Space Invaders. Its visual is as quirky and as simple. Plus, you can add the twist of chickens moving about to attack you. That makes it a big plus in terms of design and look. The sound is also something worth noting. It has a repetitive and droning element to it that makes it one of the candidates for your next last song in your head for days end.
The game maybe of olden quality but it is the brand that makes classics. This is a great game. Pick it up in your download store now.