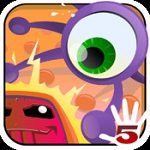 Starboard ye fool! Arrghh! This damn kid wantin' to be a pirate like me is givin' me a lot o' grief. Well, he is tryin' hard as he can and I give him that. But he got to show me a lot more to earn me trust and praise. I do appreciate though his dexterity. This boy can climb atop the mast in less than 10 seconds, and swing to and fro high above like a monkey. And I be tellin' ye like it is. He actually reminds me of the purple eyeball named Edgar from Cling!
Cling! is a one-of-a-kind platformer that was just recently launched, March 7, 2013 to be exact. The app was developed by By First5 Games and is, in my opinion a great and unique game. Let's get down to it, shall we?
Clinging is the Name of the Game
Cling! is a strange game but quite unique. You actually take control or rather direct Edgar, a strange looking, purple eyeball that stretches and clings to whatever surfaces he comes in contact to. The game is a platformer, but since most of the platforms are in the form of pegs, all of which Edgar can easily traverse, some have called Cling! a pegformer, somewhat creating a mini-genre under platformers.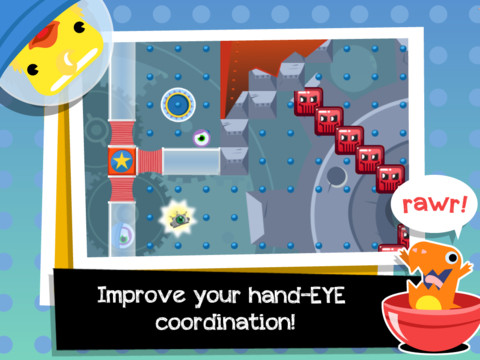 Well, whatever it is, the game is fresh in design and mechanics. Before we get into the breakdown of this marvelous App, this dusty old Pirate recommends that you stretch your fingers before starting to play, because this game is quite intensive, savvy?
Moving Edgar
The goal of each level is to get Edgar to a designated checkpoint. To do that, you will need to touch on pegs you want Edgar to climb and his tentacles will slither their way through to it. Keep directing him with your finger through obstacles and pegs and he will surely find his way to the checkpoint and through to the next level – easier said than done if only the red villains weren't causing havoc to Edgar's flight plans.
The Red Menaces
Villains in red that plan to torture good, old Edgar. They plan to set traps, loosen pegs, add some nasty spikes, and the like just so Edgar won't reach his destination. Yes, those are the baddies you have to watch out for. Help Edgar avoid those baddies and find yourself climbing up the levels, which get more difficult as you move on.
Hat and Gumdrops
It seems that Edgar has a fetish for hats. One of your secondary objectives on each level is to help Edgar collect hats. These collections will crazy up your score, so such an endeavor is a must.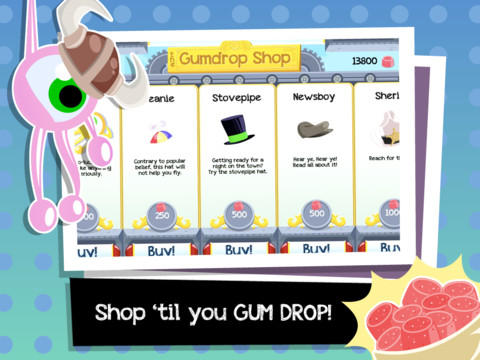 As for the gumdrops, these serve as the in-game currency, which you can use to purchase other aesthetic enhancements for Edgar through the in-game store. These two elements serve as distractions as collecting them really won't improve Edgar's abilities or get you through levels much faster and easier, so I would not place a lot of weight on them.
Bottom Line
The game is unique and pretty cool. The graphics feature a steampunk-type of theme, which is kind of popular nowadays. So, all in all, the game is designed well and will probably be a hit. The price tag on the title is a bit of a drawback – $2.99 on iTunes. However, the game quality and design are, IMHO totally worth it.