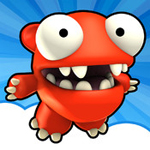 Ahoy there me lads and lassies! It's me again, the one and only pirate app back from my search through the seven seas to share with you my latest booty -as far as the app world is concerned, that is. Don't worry, me app finds are worth its weight in gold.
If you're into endless games like Ninjump, Doodle Jump, Canabalt, Jet Pack, and Temple Run, then I bring you yet another endless game treasure -Mega Jump. So bring down the anchor, and read on for me latest app find.
The Game Play
Most of the time, you have your friendly little parrot clinging tightly on yer shoulder, waiting for the next big adventure. In this application, instead of yer pet parrot, you have a googly-eyed orange baby dinosaur for your matey. The objective of the game is simple -just bring your dinosaur as far up high as you possible can, as long as you possibly can (That's why we call it an endless game, matey!), and collect as many coins and power-ups as you can to score the highest points.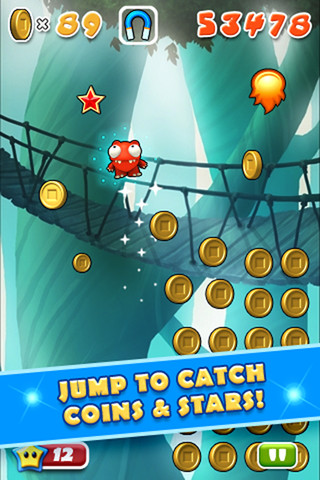 You tilt your device to the left and right to control your orange matey's left and right movement. But take note: unlike most endless games that make your character move upward by stepping on platforms, springs, etc, in this game, you make your character boost upward by collecting as many coins as you can.
The Challenge
Now a game is not a game without a challenge, right matey? As simple as the game may sound: bring your googly-eyed, orange dinosaur as high as you possibly can by eating as many coins as you can -that's exactly where the challenge lies. Unlike most endless games out there with platforms, springs, etc to help boost your character upwards, the only way to achieve this in Megajump is by eating as many coins as you possibly can.
Now what seems to be the trouble here? Of course, they won't make the game easy for you by laying out the coins in one straight line or scattered all over for you now, will they? Coins aren't always evenly distributed and are not ever-present. Given this, you'll have to strategically place your little matey so you can grab more coins and help him boost upward.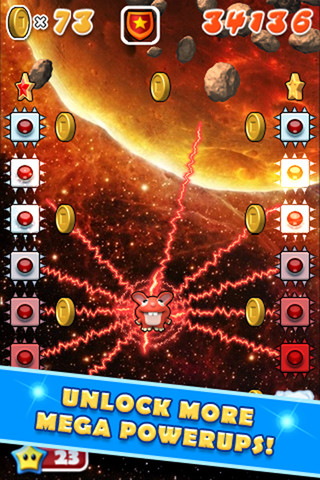 Not to fear, for you get quite a boost from power-ups like Fireball and Super Nova Mega Boost to send your orange friend careening upwards for the ride of his life, definitely faster than my ship can take you. On second thought, everything is faster than my ship, ain't it?
To help get you through this game, the skills you'll need are dexterity and a good sense of hand-eye coordination, as with most games. It will also help to have a doze of patience and a competitive spirit to get you through, otherwise, you'll be marooned.
Eye-Popping Booty
For a sea dog like me, sailing through the seven seas and seeing all kinds of sites, people and creatures doesn't surprise me anymore. So seeing the graphics on this app is quite a pleasant change for me. The superb 3D graphics take you to different places level after level, from friendly forests to jungles, and even outer space! A good change of scenery for pirates like us, huh? There's also more of them eye-popping, googly-eyed creatures to unlock once you advance to further levels, along with more unlock-able power-ups to boost you further up to space and beyond.
There's More Booty Where that Came From
Oh, did I forget to mention that this game is absolutely free? So you have your endless, challenging fun, superb 3D graphics, collectible characters, unlock-able power-ups, and it's also free? Blimey! A treasure to behold, this game is! What's more is this game is connected to Open Feint and Game Center so you can attempt to top the leader boards against other buccaneers out there. Or you can simply just try to outdo lads and lassies on the ship.